While the transition from Roman to Byzantine is gradual and somewhat fluid when it comes to political criteria, it is pretty clearly defined numismatically; In 491 Anastasius I became Emperor, and in 498 AD he introduced a monetary reform.

The new system involved three denominations of gold (the solidus and its half and third) and five of copper – the follis, worth 40 nummi, and its fractions worth 20, 10, 5 and 1 nummus. The obverses featured a highly stylized portrait, while the reverse featured the value in Greek numerals; M=40, K=20, I=10, E=5.

Politically this period covers Anastasius and the Justinian Dynasty, and was characterized by efforts to reclaim lost territory – North Africa, Illyria, southern Spain, and Italy. The last Justinian emperor – Maurice – managed to make himself unpopular enough to trigger a revolt which cost him his life in 602 AD, and triggered a series of cataclysmic events which would undo the progress of the last century.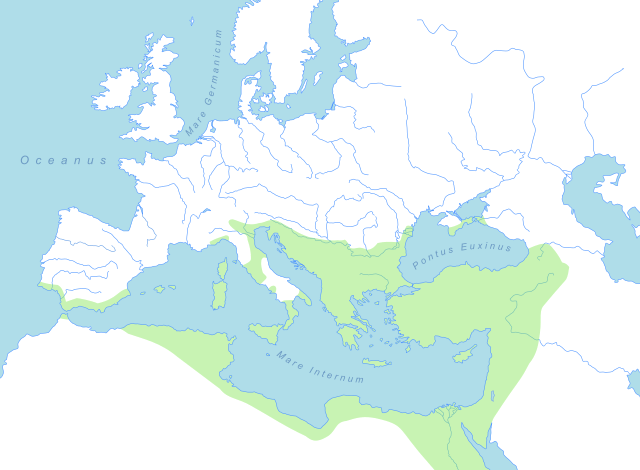 ---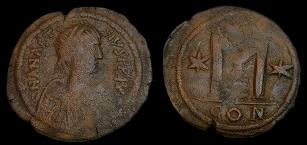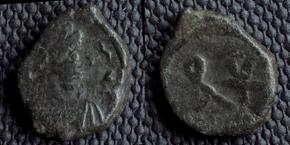 draped, diademed bust right; (illegible letters)
Helmeted, draped, cuirassed bust right,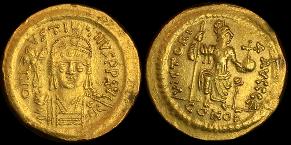 D N I - VST - INVS PP AVI, Helmeted bust facing, holding Victory on globe and shield.
VICTORI - A AVGGG ? (officina 4) around, CONOB in exergue, Constantinipolis seated facing, head r., holding spear and cross on globe.
DN IVSTINIANVS PP AVG, Bust of Justinian wearing helmet and cuirass, facing holding cross on globe and shield; cross to right
Large M, ANNO to left, cross above, regnal year (XIII) to right, officina letter (ϵ) below; CON in exergue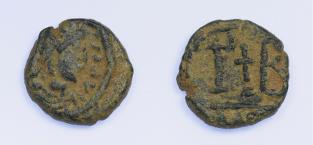 Uncertain inscription, Bust facing right wearing diadem, cuirass, and drapery
Cross between I and B; AΛEΞ in exergue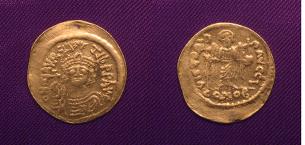 DN mAVRC TIb PP AVG, Bust of Maurice facing, wearing plumed helmet, and cuirass, holding cross on globe
VICTORIA AVGGI, Angel standing facing, holding long P-headed cross, and cross on globe; CONOB in exergue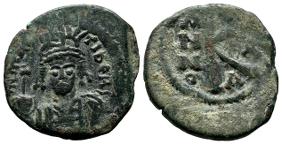 D N MAVR TIBER PP AV. Helmeted and cuirassed bust facing, holding globus cruciger and shield.
Large mark of value K; ANNO to left, cross above, X/I to right, A in exergue.