Kos
— A settlement in Caria
Kos refers to the island until foundation of Kos city in 366 BC. Early coins were struck in different town on the island. Prior 366 BC, the capital of Kos was Astypalaia located in the south-west end of the island.

In classical mythology the founder-king of Kos was Merops, hence "Meropian Kos" is included in the archaic Delian amphictyony listed in the 7th-century Homeric hymn to Delian Apollo.

The island was originally colonised by the Carians. The Dorians invaded it in the 11th century BC, establishing a Dorian colony with a large contingent of settlers from Epidaurus, whose Asclepius cult made their new home famous for its sanatoria. The other chief sources of the island's wealth lay in its wines and, in later days, in its silk manufacture.

At the end of the 6th century, Kos fell under Achaemenid domination but rebelled after the Greek victory at the Battle of Mycale in 479.

During the Greco-Persian Wars, before it twice expelled the Persians, it was ruled by Persian-appointed tyrants, but as a rule it seems to have been under oligarchic government. In the 5th century, it joined the Delian League, and, after the revolt of Rhodes, it served as the chief Athenian station in the south-eastern Aegean (411–407). In 366 BC, the capital was transferred from Astypalaia to the newly built town of Kos and democracy was instituted. After helping to weaken Athenian power, in the Social War (357-355 BC), it fell for a few years to the king Mausolus of Caria. Proximity to the east gave the island first access to imported silk thread. Aristotle mentions silk weaving conducted by the women of the island. Silk production of garments was conducted in large factories by women slaves.

In the Hellenistic period, Kos attained the zenith of its prosperity. Its alliance was valued by the Ptolemaic kings of Egypt, who used it as a naval outpost to oversee the Aegean. As a seat of learning, it arose as a provincial branch of the museum of Alexandria, and became a favorite resort for the education of the princes of the Ptolemaic dynasty. During the Hellenistic age, there was a medical school; however, the theory that this school was founded by Hippocrates during the Classical age is an unwarranted extrapolation.

Except for occasional incursions by corsairs and some severe earthquakes, the island has rarely had its peace disturbed. Following the lead of its larger neighbour, Rhodes, Kos generally displayed a friendly attitude toward the Romans; in 53 AD it was made a free city. It was known in antiquity for the manufacture of transparent light dresses, the coae vestes. The island of Kos also featured a provincial library during the Roman period.
Modern location:
Kos, Greece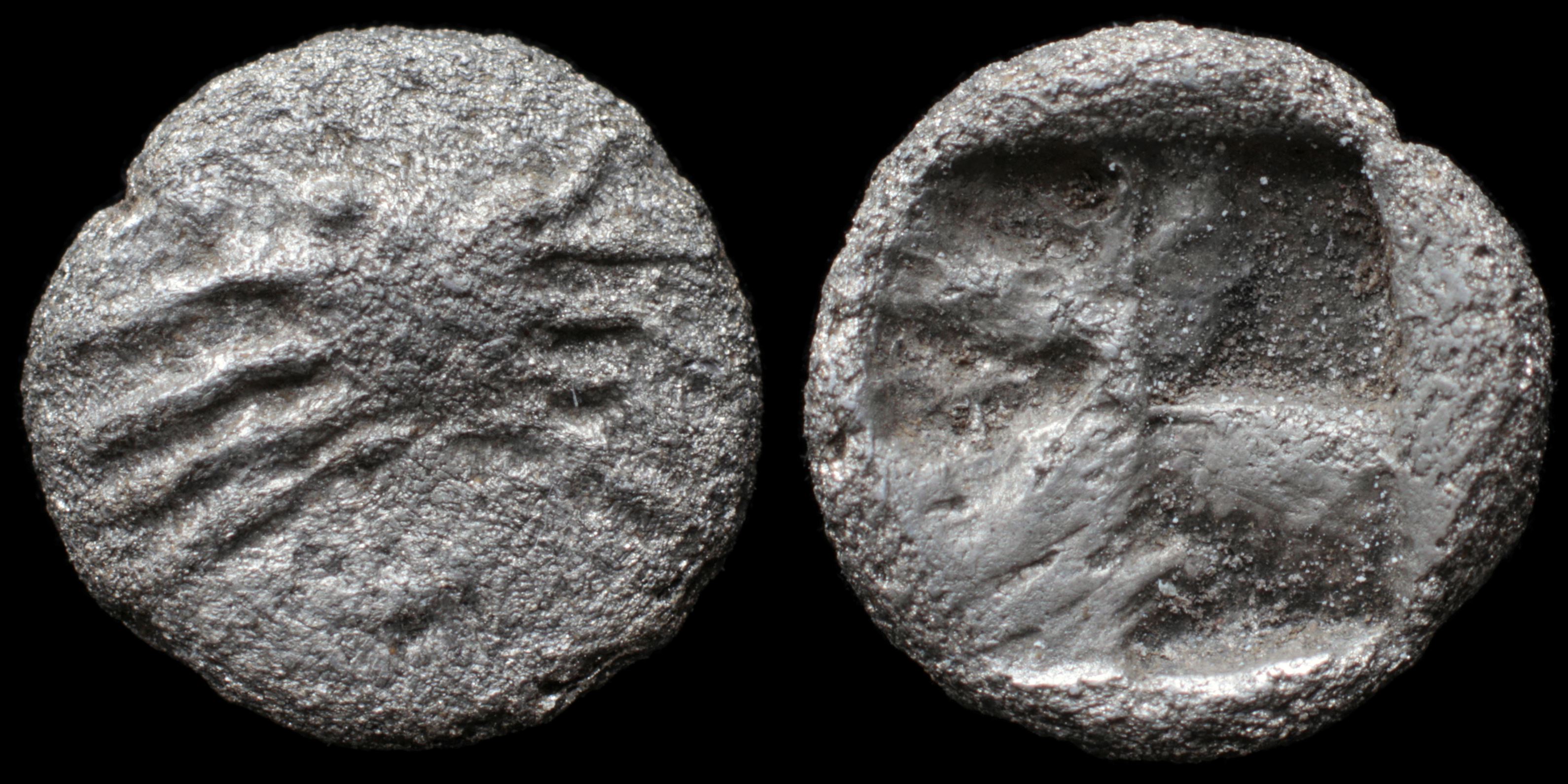 Reverse: quadripartite incuse square

Diameter:
8 mm
Die Orientation:
-
Weight:
0.6 g
SNG Copenhagen 615-6 (diobols); HGC 6, 1297; BMC 5; SNG Kayhan 903.