Olba was a city of Cetis in Cilicia Aspera, later forming part of Isauria; it had a temple of Zeus, whose priests were once kings of the country, and became a Roman colony. Strabo and Ptolemy call it Olbasa.

According to a legend told by the Greek geographer Strabo the original temple of Zeus Olbius had been founded by Ajax, one of the Greek heroes of the Trojan War. The priests belonged to the Teucrid dynasty: every man of this family was called either Ajax or Teucer. Ruled by these priests, Olba remained a small theocracy during the Seleucid age.

Several monuments date back to this period. One of these is the big tower, which was built in the second half of the third century BC. The inhabitants were very proud of this building, putting a picture of it on their coins. It is still the most remarkable monument in the neighborhood and the modern town, Uzuncaburç, was named after it ("tall tower").
Modern location:
Ruins north of Silifke, Turkey
(1) Ajax (High Priest
|
Toparch)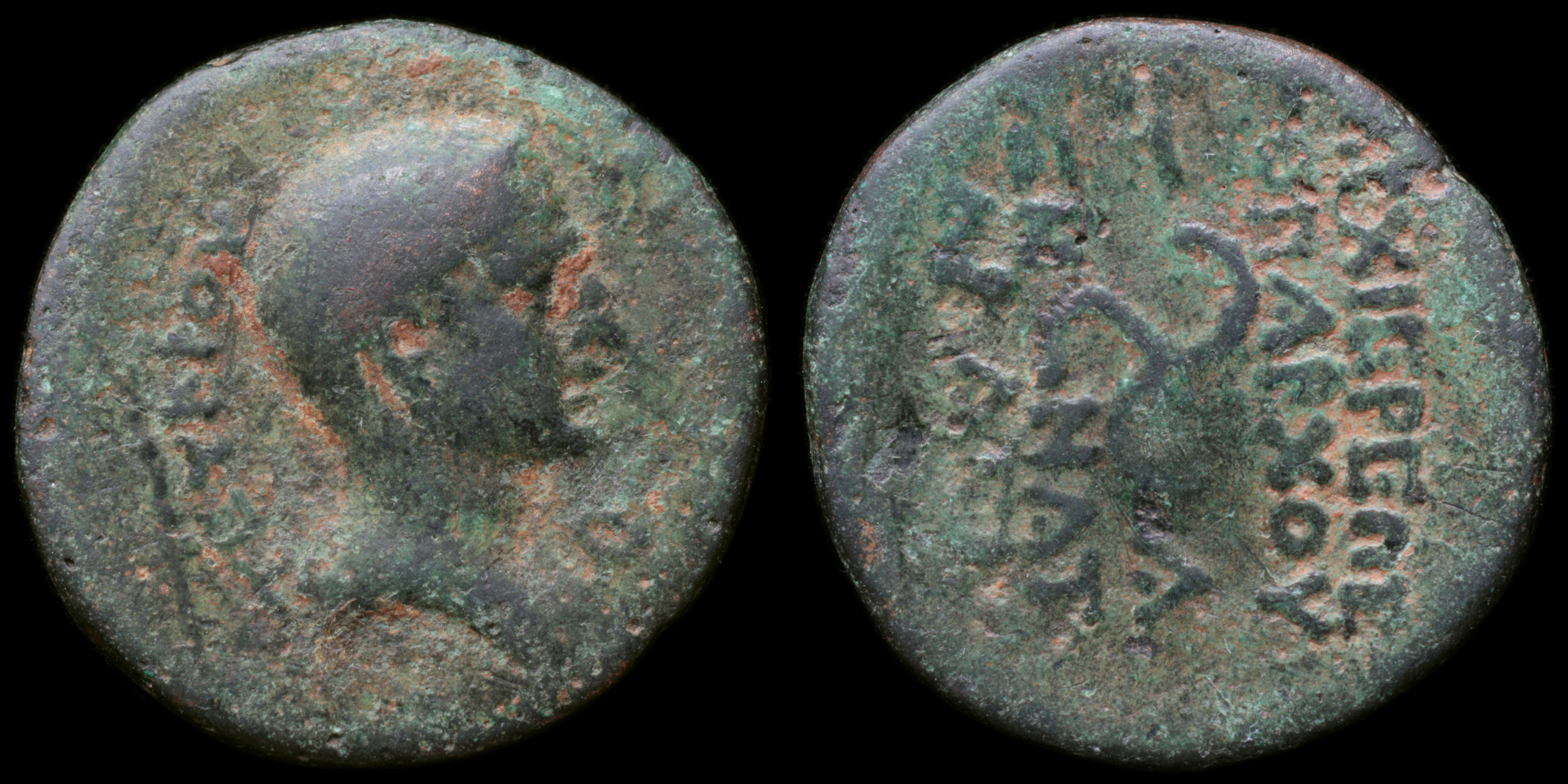 Obverse:
draped bust of right Ajax high priest wearing pilos (as Hermes); kerykeion over breast; ΑΙΑΝΤΟΣ ΤΕΥΚΡΟΥ
Reverse: triskeles; AΡΧΙΕΡΕΩΣ / ΤΟΠΑΡΧΟΥ // ET_A // ΚΕΝ_ΝΑΤ / ΛΑΛΑΣΣ

Diameter:
21 mm
Die Orientation:
-
Weight:
6.3 g
RPC I, 3725; G. M. Staffieri, La monetazione di Olba nella Cilicia Trachea, QT (1978), 12, 7.
Obverse:
Head of Domitian left; ΔOMITIANOY·KAIΣAPOΣ
Reverse: Head of Titus right; AYTOKPATOPOΣ·TITOY·OYEΣΠAΣIAN_OY·

Diameter:
24 mm
Die Orientation:
-
Weight:
14.2 g