Flavius Julius Crispus was a Caesar of the Roman Empire. He was the first-born son of Constantine I and Minervina. He was well liked by his father and the army, and was the most likely successor to the imperial reins.

However, in 326 Crispus was suddenly tried by a local court in Istria and executed - at his fathers orders, no less.

Ancient hisorians claim that his step-mother, Fausta, had accused him of attempted rape. Always short tempered, Constantine immediately had his son executed. A few months later, Constantine reportedly found out the whole truth and had Fausta boiled to death.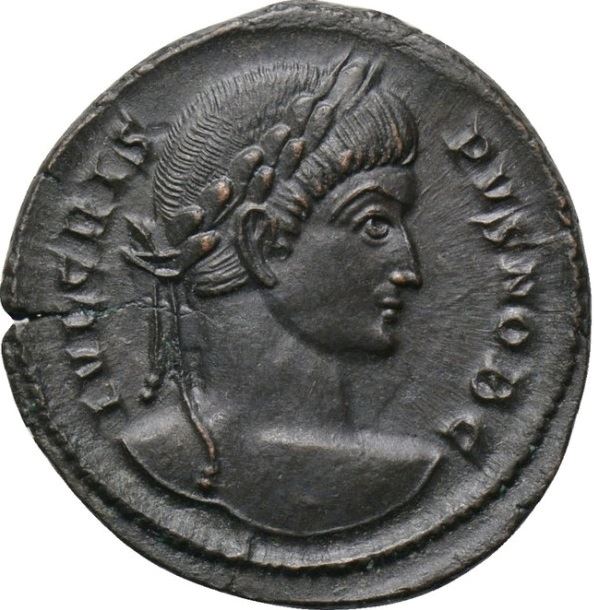 ---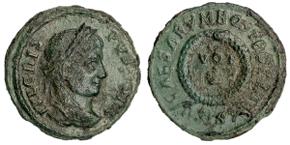 CAESARVMNOSTRORVM, VOT V inside wreath
CAESARVMNOSTRORVM, VOT V inside wreath
CRISPVS NOB CAES, Bust of Crispus facing left, wearing laurel wreath and cuirass, holding spear and shield
VIRTVS EXERCIT, Military standard with VOT XX inscribed in two lines; captives at left and right; TT in exergue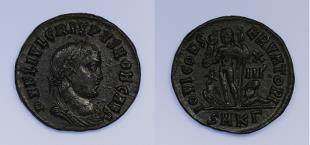 DN FL IVL CRISPVS NOB CAES, Bust of Crispus facing right, wearing laurel wreath, cuirass, and drapery
IOVI CONSERVATORI, Jupiter standing facing, head left, holding Victory on globe and scepter, eagle holding wreath in mouth at left, bound captive at right; XIIΓ in right field; SMKΓ in exergue
CAESARVM NOSRORVM VOT X in wreath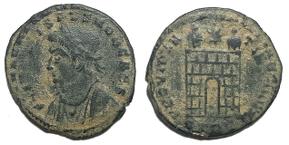 FL IVL CRISPVS NOB CAES, laureate, draped, cuirassed bust left
PROVIDEN-TIAE CAESS, campgate; 2 turrets, 6 layers, no doors. Mintmark STR dot-in-crescent.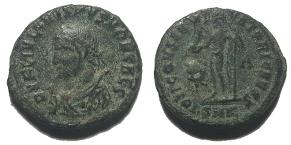 DN FL IVL CRISPVS NOB CAESS, laureate bust left, draped, holding globe, sceptre and mappa
IOVI CONSER-VATORI CAESS, Jupiter leaning on sceptre and holding Victory on globe, wreath to left, officina letter Δ to right. Mintmark SMK.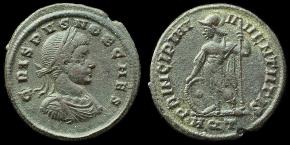 laureate, draped and cuirassed bust right; CRISPVS NOB CAES
soldier standing left, wearing helmet and cloak, holding spear and resting hand on shield; PRINCIPIA I_V_VENTVTIS / AQT
laureate, draped and cuirassed bust left; FL IVL CRISPVS NOB CAES
VOT / · / X within wreath; CAESARVM NOSTRORVM / TSΔVI
laureate head right; IVL CRIS_PVS NOB C
VOT / V within wreath; CAESARVM NOSTRORVM / ASIS*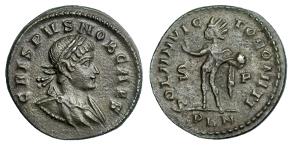 CRISPVS NOB CAES, laureate, draped and cuirassed bust right
SOLI INVIC-TO COMITI, Sol standing left, chlamys across left shoulder, right hand raised, left hand holding up globe; S-P across fields, PLN in exergue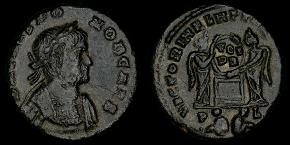 D N CRISPO - NOB CAES or D N CR-ISPO - NOB CAES: Bust of Crispus, laureate, cuirassed, right
VICTORIAE LAET PRINC PERP: Two Victories, winged, draped, facing each other, holding a shield inscribed VOT/PR supported by an altar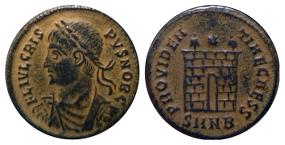 FL IVL CRIS-PVS NOB C: Bust of Crispus, laureate, draped, cuirassed, left
PROVIDEN-TIAE CAESS: Camp gate with two turrets, without doors, with varying number of stone layers; star above. MintMark: -/-//SMNB