Flavius Magnus Magnentius Augustus was a usurper of the Roman Empire from 350 to 353.

Born in Samarobriva (Amiens), Gaul, Magnentius was the commander of the Imperial guard units. When the army grew dissatisfied with the behavior of Roman Emperor Constans, it elevated Magnentius. Constans was abandoned by all except a handful of retainers, and he was slain shortly afterwards by a troop of light cavalry near the Pyrenees.

While Magnentius received the support og Britannia, Hispania and Gaul, Emperor Constantius II would have none of it and marched to battle. After a series of defeats Magnentius fell on his sword in 353.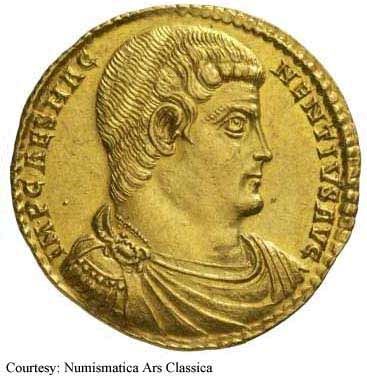 ---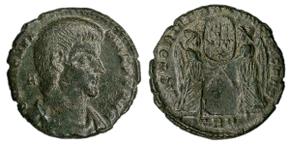 D N MAGNEN–TIVS P F AVG, Draped and cuirassed bust right, A behind
VICTORIAE DD NN AVG ET CAES, two Victories standing facing, one another, holding round shield inscribed VOT V MVLT X in four lines. No column.
DN MAGNEN-TIVS PF AVG, bare-headed, draped, cuirassed bust right, A behind head.
GLORIA ROMANORVM, emperor on horseback galloping right, no shield, wielding spear at a bare-headed enemy half- kneeling before the horse, broken spear and shield beneath the horse. Star in upper right field.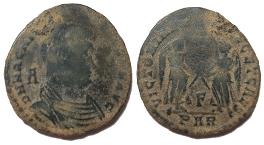 D N MAGNENTIVS P F AVG / A. Bare-headed, draped and cuirassed bust right.
VICTORIAE DD NN AVG ET CAES / F / PAR. Two Victories standing facing each other, holding between them wreath inscribed VOT / V / MVLT / X in four lines.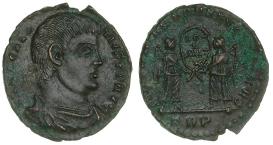 DN MAGNEN-TIVS PF AVG / bare-headed, draped, cuirassed bust right, A behind bust
VICTORIAE DD NN AVG ET CAES / two Victories standing facing each other, holding between them a wreath inscribed VOT-V-MVLT-X. Mintmark TRP
draped and cuirassed bust right; IM CAE MAGN_ENTIVS AVG
Magnentius standing half left, holding Victory on globe and labarum; FELICITAS__REIPVBLICE / A / TRS
draped and cuirassed bust right; D N MAGNEN_TIVS P F AVG / B
two Victories holding shield inscribed VOT / V / MVLT / X; VICT DD NN AVG ET CAES / * / R P
Magnentius standing on galley