Moesia was an ancient region situated in the Balkans, along the south bank of the Danube River.

The region was inhabited chiefly by Thracians, Dacians (Thraco-Dacians), Illyrian and Thraco-Illyrian peoples. The name of the region comes from Moesi, Thraco-Dacian peoples who lived there before the Roman conquest. In 75 BC, C. Scribonius Curio, proconsul of Macedonia, took an army as far as the Danube and gained a victory over the inhabitants, who were finally subdued by M. Licinius Crassus, grandson of the triumvir and later also proconsul of Macedonia during the reign of Augustus c. 29 BC.

As a frontier province, Moesia was strengthened by stations and fortresses erected along the southern bank of the Danube, and a wall was built from Axiopolis to Tomi as a protection against the Scythians and Sarmatians.

---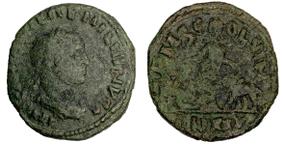 IMP C EMIL EMILIANO AVG, drap. bust with laur. head right
PMSC - OLVIM, Moesia standing between bull and Lion, AN XIV in exergue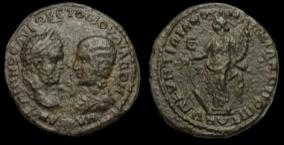 ANTΩNINOC AVΓOVCTOC IOVΛIA ΔOMNA, laureate bust of Caracalla right, seen from front and draped bust of Julia Domna left, vis-à-vis .
VΠA KVNTIΛIANOV MAPKIANOΠOΛITΩ-N, Tyche Soteiros (Fortuna Redux) standing left, holding rudder in outstretched right hand and cornucopiae in left; E in upper left field.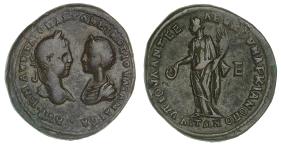 Confronted busts of Elagabalus right, laureate, and Julia Maesa left, draped
Homonoia standing left, holding patera and cornucopia; E (mark of value) to right.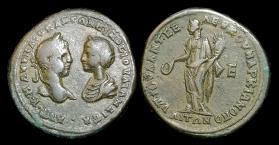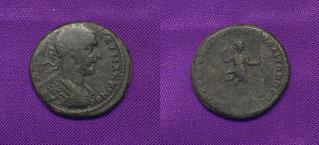 ΑVΤ Κ Μ ΟΠΕΛΛ CΕV ΜΑΚΡΙΝΟC, Bust of Macrinus facing right, wearing laurel wreath and cuirass, showing back
VΠ CΤΑ ΛΟΝΓΙΝΟΥ ΝΙΚΟΠΟΛΙΤΩΝ ΠΡΟC ΙCΤΡΟΝ, Artemis standing facing right, holding bow and reaching for an arrow from quiver on her back
(6) Macrinus

|

Diadumenian
IMP M IVL PHILIPPVS AVG, laureate, draped and cuirassed bust right
P M S COL VIM, Moesia standing facing, head left, extending hands over bull on left standing right and lion on right standing left, AN VI in exergue
laureate, draped and cuirassed bust right AVT K M AVP CEV_AΛEZANΔPOC
Tyche standing half left, holding rudder and cornucopia VΠ ΦIP ΦIΛOΠA(ΠΠ)OV MAPKIANOΠOΛIT(ΩN)
CABINIA TPANKVLINA Draped bust right, wearing stephane.
ICTPIHNON Sea-eagle left, grasping dolphin with talons.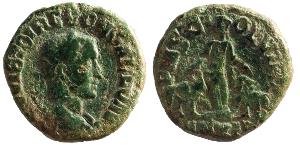 IMP C VIBIO TREBON GALLO AVG, laureate, draped, cuirassed bust right, seen from the back
PMS COL VIM, Moesia standing facing, hands outstretched over a lion and a bull, date AN XII in exergue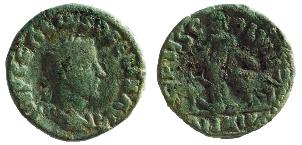 IMP C GALLVS P FELIX AVG, laureate, draped, cuirassed bust right, seen from the back
PMS C-OL VIM, Moesia standing facing, hands outstretched over a lion and a bull