Arelatum
- A settlement in Narbonensis
also known as
Arles
Arelatum was originally a Ligurian settlement, which became an important Phoenician trading port before being taken by the Romans in 123 BC.

After siding with Julius Caesar during the war agains Pompey, it was established as a colony for veterans from Legio VI 'Ferrata' and became an important city.

The mint at Arelatum was opened in AD 313. Early issues use the AR or ARL mintmark. In AD 318 the city was renamed Constantina to mark it as the birthplace of Constantine II. From this time the mintmark CONST or CON was used. After the death of Constantine II in AD 340, the mintmark ARL was reintroduced, lasting until AD 353. After this time it remained CON or CONST.
Modern location:
Arles, France
---
laureate-rosette-diademed, draped and cuirassed bust right; CONSTANS_P F AVG
two soldiers standing either side of a standard (G); GLORI_A EXERC_ITVS / SARL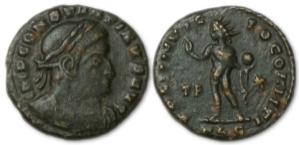 IMP CONSTANTINVS P F AVG, laureate, cuirassed bust right
SOLI INVIC-TO COMITI, Sol standing left, chlamys draped over left shoulder, holding globe upwards and raising right hand. TF in left field, star in right field. Mintmark PLG.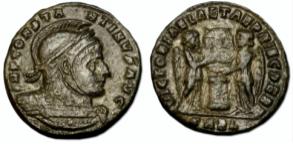 IMP CONSTANTINVS AVG, laureate created helmeted and cuirassed bust right
VICTORIAE LAETAE PRINC PERP, two Victories facing and inscribing VOT PR on shield placed on plain altar. Mintmark SARL
D N CONSTANTIVS P F AVG, pearl-diademed, draped and cuirassed bust right
VOTIS XXX MVLTIS XXXX in four lines within wreath; SCON in exergue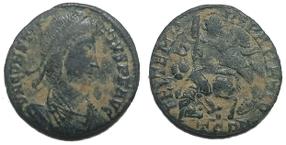 DN CONSTAN-TIVS PF AVG, pearl diademed, draped, cuirassed bust right
FEL TEMP TEMP RE-PARATIO, soldier standing left, spearing a fallen horseman who is wearing a Phrygian helmet, reaching backwards. D in left field. Mintmark TCON.
pearl-diademed, draped and cuirassed bust right; D N GRATIA_NVS P F AVG
Gratian standing front, head left, holding Victory on globe and raising kneeling female on left; REPARATIO__REIPVB / PCON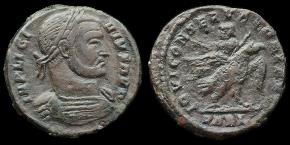 laureate cuirassed bust right; IMP LICI_NIVS AVG
emperor borne by eagle standing right, left wing pointing downwards, looking back; emperor holds sceptre in left hand and thunderbolt in right; IOVI CONSERVARI AVG / PARL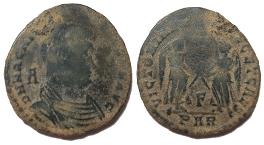 D N MAGNENTIVS P F AVG / A. Bare-headed, draped and cuirassed bust right.
VICTORIAE DD NN AVG ET CAES / F / PAR. Two Victories standing facing each other, holding between them wreath inscribed VOT / V / MVLT / X in four lines.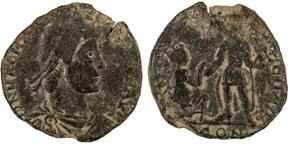 DN MAG MAXIMVS PF AVG, diademed, draped and cuirassed bust right
REPERATIO REI PVB, Maximus in military attire standing left, raising with right hand a turreted female figure who kneels before him, and holding victory on globe in left hand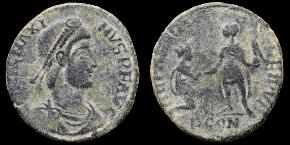 pearl-diademed, draped and cuirassed bust right; D N MAG MAXI_MVS P F AVG
emperor standing facing, head left, in left Victory on a globe crowns him, with right raising turreted woman; REPARATIO_REIPVB / PCON
pearl-diademed, draped and cuirassed bust right; D N VALEN_S P F AVG
Valens advancing right, dragging captive and holding labarum; GLORIA RO_MANORVM / OF _ II / CONST
pearl-diademed, draped and cuirassed bust right; D N VALENTI_NIANVS P F AVG
Valens advancing right, dragging captive and holding labarum; GLORIA RO_MANORVM / OF _ II / CONST