The Kingdom of Armenia was a monarchy in the Ancient Near East which existed from 321 BC to 428 AD. Its history is divided into successive reigns by three royal dynasties; Orontid (321 BC–200 BC), Artaxiad (189 BC–12 AD), and Arsacid (52–428).

The root of the kingdom lies in one of the satrapies of the Achaemenid Empire of Persia called Armenia (Satrapy of Armenia). The satrapy became a kingdom in 321 BC during the reign of the Orontid dynasty after the conquest of Persia by Alexander the Great, which was then incorporated as one of the Hellenistic kingdoms of the Seleucid Empire.

During the Roman Republic's eastern expansion, the Kingdom of Armenia, under Tigranes the Great, reached its peak, from 83 to 69 BC, after it reincorporated Sophene and conquered the remaining territories of the falling Seleucid Empire, effectively ending its existence and raising Armenia into an empire for a brief period, until it was itself conquered by Rome in 69 BC. The remaining Artaxiad kings ruled as clients of Rome until they were overthrown in 12 AD due to their possible allegiance to Rome's main rival in the region, Parthia.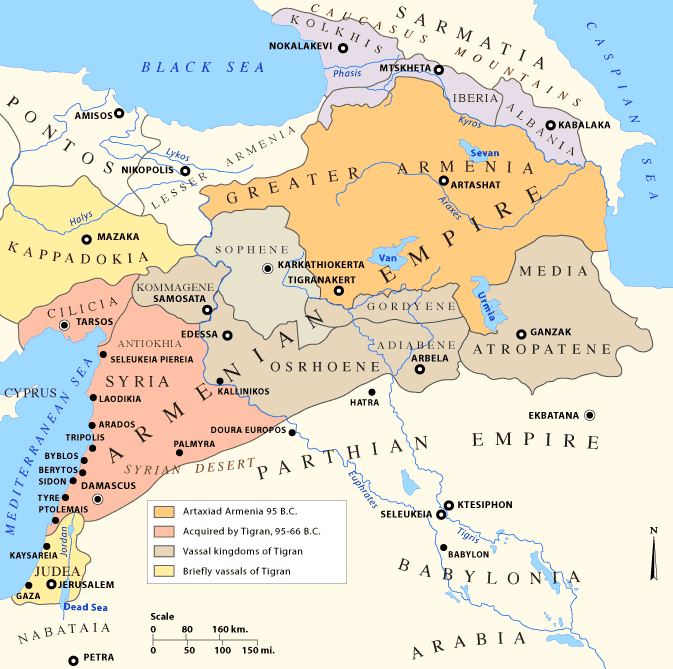 Obverse:
draped bust right wearing ive-pointed Armenian tiara decorated with a star between two eagles and tied with a diadem
Reverse: palm branch; BAΣIΛEΩΣ / TIΓPANOY // H__monogram

Diameter:
-
Die Orientation:
-
Weight:
-