Q. Fabius Labeo was one fo the moneyers for the year 124 BC. He is not otherwise known.

Gens Fabia was one of the most ancient patrcian familiies in Rome. They played a prominent part in history soon after the Republic was established, and three brothers held seven consecutive consulships from 485 to 479 BC, thereby cementing the excellent reputation of the family.

According to legend, the Fabii claimed descent from Hercules and his visit to Italy before the Trojan War, and from Evander, his host.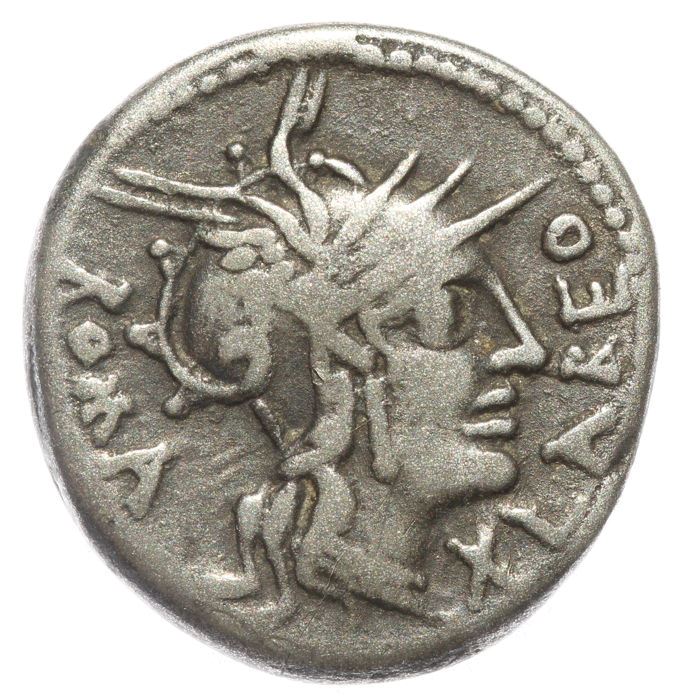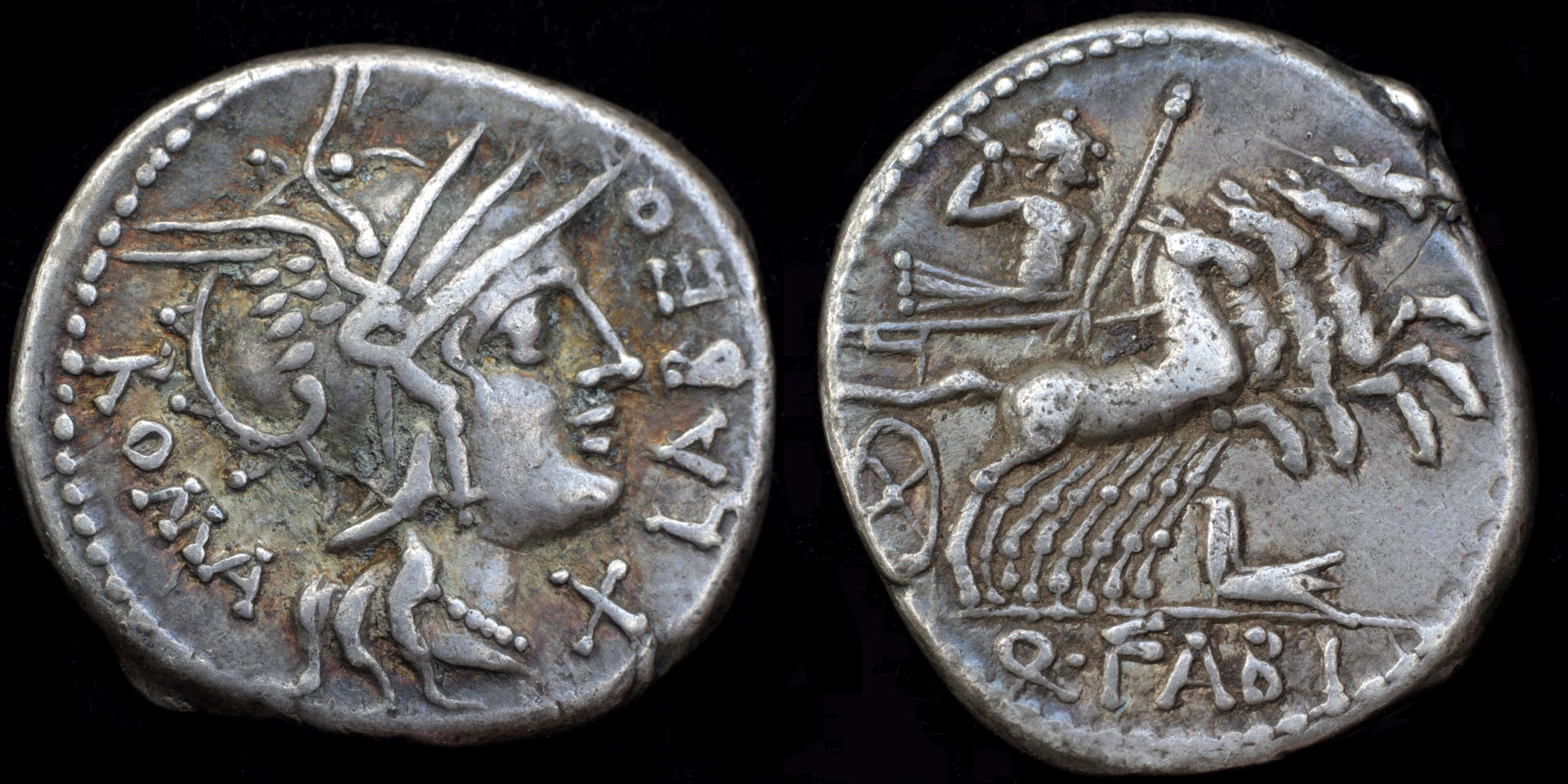 Obverse:
head of Roma right waering winged helmet LABEO ROMA X
Reverse: Jupiter in quadriga right, holding reins and scepter, hurling thunderbolt, rostrum tridens below Q·FABI

Diameter:
18 mm
Die Orientation:
-
Weight:
3.9 g
After 124 B.C., the mark of value is represented either by (XVI) in monogram or X. The Rostrum on the reverse probably refers to the moneyer's grandfather and namesake and his naval victories in 189-188 B.C. -- Roman Republican Coinage by Michael H. Crawford
Crawford 273/1, SRCV I 148, Sydenham 532, RSC I Fabia 1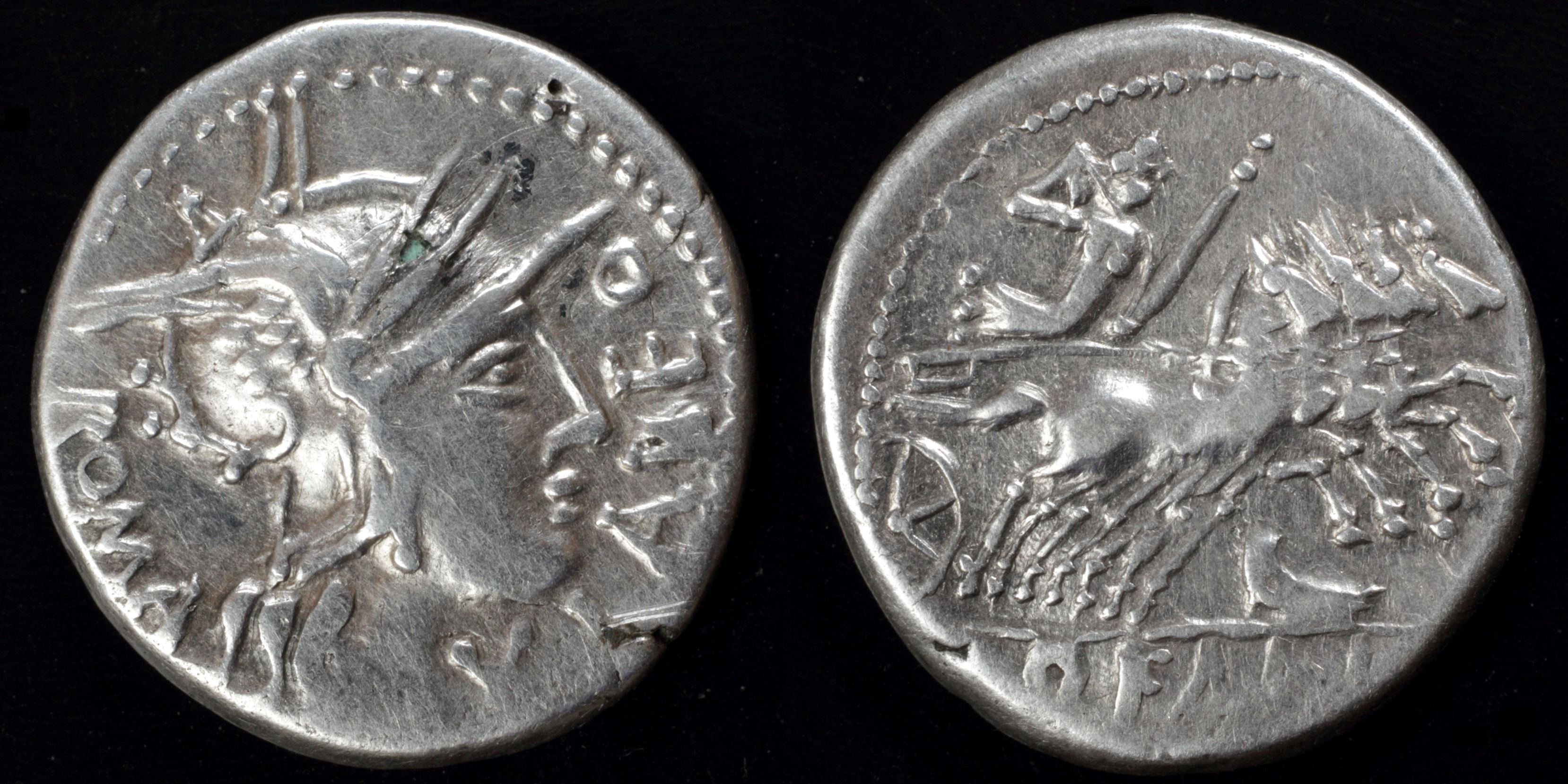 Obverse:
head of Roma right wearing winged helmet LABEO ROMA X
Reverse: Jupiter in quadriga right, holding reins and scepter, hurling thunderbolt, rostrum tridens below Q·FABI

Diameter:
18 mm
Die Orientation:
-
Weight:
3.1 g
unofficial issue - fouré denarius After 124 B.C., the mark of value is represented either by (XVI) in monogram or X. The Rostrum on the reverse probably refers to the moneyer's grandfather and namesake and his naval victories in 189-188 B.C. -- Roman Republican Coinage by Michael H. Crawford
Crawford 273/1, SRCV I 148, Sydenham 532, RSC I Fabia 1