Quintus Caecilius Metellus Pius Cornelianus Scipio Nasica was a Roman consul and military commander in the Late Republic.

During the civil war between Julius Caesar and the senatorial faction led by Pompeius Magnus ("Pompey the Great"), he remained a staunch optimate.

He led troops against Caesar's forces, mainly in the battles of Pharsalus and Thapsus, where he was defeated. He later committed suicide.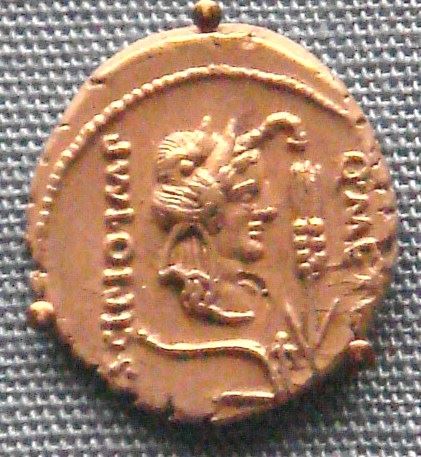 ---
head of Africa right, laureate and clad in elephant scalp, stalk of grain right, plough below; Q·METELL__SCIPIO·IMP
naked Herakles facing, leaning on club set on rock draped with lion's skin; EPPIVS__LEG·F·C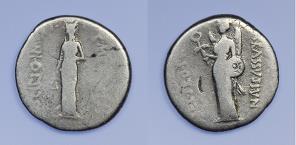 G T A above, Q METEL PIVS right, SCIPIO IMP left, the Genius of Africa (Sekhmet the lion-headed Egyptian goddess) standing facing, holding ankh in right hand
P CRASSVS IVN right, LEG PRO P R left - Victory standing left, holding winged caduceus in right hand, small round shield in left