Valerius Licinianus Licinius was the son of Roman emperor Licinius. He nominally served as Caesar in the eastern empire from 317 to 324 AD while his father was Augustus.

After his father's defeat by Constantine at the Battle of Chrysopolis, Licinius the elder was initially spared and placed in captivity at Thessalonica. However, within a year Constantine seems to have regretted his leniency and the former Emperor was hanged.

The younger Licinius, who was Constantine's nephew, also fell victim to the emperor's suspicions and was killed, probably in the context of the execution of Crispus in 326.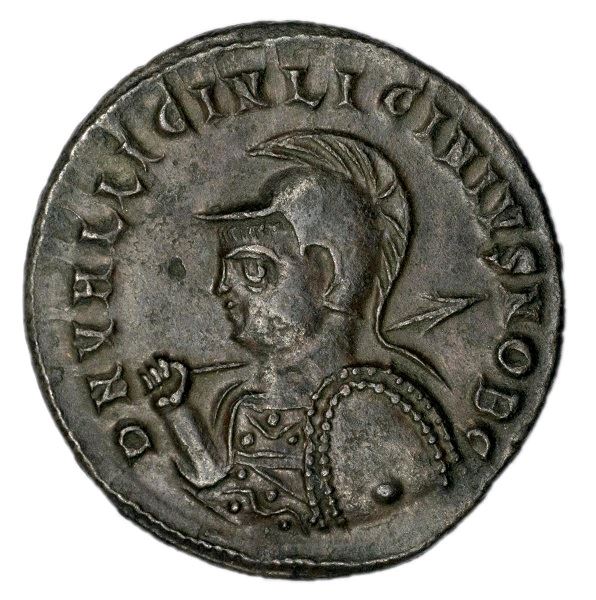 Epithet:
Minor ("the Younger")
---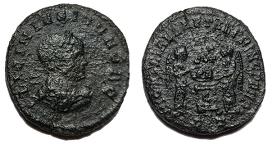 LICINIVS IVN NOB C Laureate, draped, and cuirassed bust right
VICTORIAE LAETAE PRINC PERP Two Victories standing facing one another, holding shield inscribed VOT PR on altar, C, T T.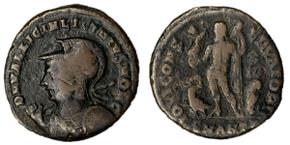 DN VAL LICIN LICINIVS NOB C, helmeted and cuirassed bust left holding spear and shield
IOVI CONSERVATORI, Jupiter standing left holding Victory on globe and eagle-tipped scepter, another eagle at feet to left, captive seated on ground to right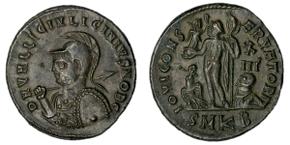 DN VAL LICIN LICINIVS NOB C, helmeted and cuirassed bust left holding spear and shield
IOVI CONSERVATORI, Jupiter standing left holding Victory on globe and eagle-tipped scepter, another eagle at feet to left, captive seated on ground to right, XIII in right field
DN VAL LICIN LICINIVS NOB C, helmeted, cuirassed bust left, holding spear and shield
IOVI CONSERVATORI, Jupiter standing left, holding Victory on globe and sceptre, eagle with wreath in beak at foot left, captive at foot right, X over II Mu in right field. Mintmark SMHB
laureate, draped bust left, holding mappa and scepter on globe; D N VAL LICIN LICINIVS NOB C
Camp gate with 3 turrets, 5 layers; PROVIDEN_TIAE CAESS / · / SMHΔ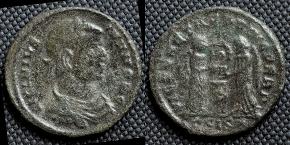 laureate, draped and cuirassed bust right; LICINIVS_IVN NOB C
two Victories facing each other, holding VOT/PR within shield on cippus; VICT · LAETAE PRINC PERP / ΓSIS*