Julia Maesa was a Roman citizen and daughter of Gaius Julius Bassianus, priest of the sun god Heliogabalus, the patron god of Emesa (modern Homs) in the Roman province of Syria.

As the grandmother of both the Roman emperors Elagabalus and Alexander Severus, she figured prominently in the ascension of each to the title at the age of fourteen. She was also the maternal aunt of the emperors Geta and Caracalla.

Julia Maesa died on an uncertain date around 224. Like her sister Julia Domna before her, she was deified.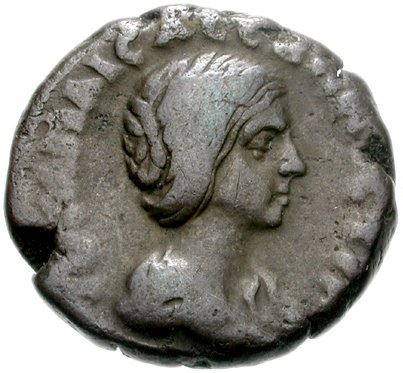 ---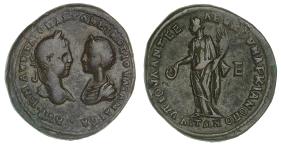 Confronted busts of Elagabalus right, laureate, and Julia Maesa left, draped
Homonoia standing left, holding patera and cornucopia; E (mark of value) to right.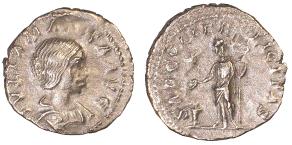 IVLIA MAESA AVG, draped bust right
SAECVLI FELICITAS, Felicitas standing left, sacrificing out of a patera over a lit altar and holding a caduceus, star ini left field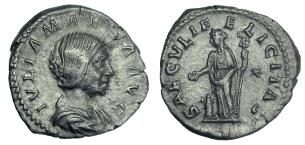 IVLIA MAESA AVG, draped bust right
SAECVLI FELICITAS, Felicitas standing left, sacrificing over lighted altar and holding long caduceus, star in right field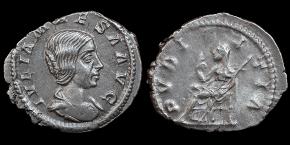 draped bust right; IVLIA MAESA AVG
Pudicitia seated left, pulling veil and holding scepter; PVDICITIA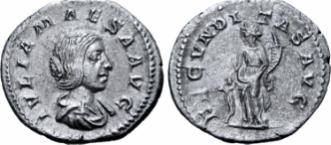 IVLIA MAESA AVG, draped bust right
FECVNDITAS AVG, Fecunditas standing left, extending her hand over a child and holding cornucopiae
(6) Severus Alexander

|

Julia Maesa
laureate, draped and cuirassed bust of Severus Alexander right, confronting diademed and draped bust of Julia Maesa left; AVT K M AVP CEVH AΛEZANΔPOC IOVΛIA MAICA·
Dikaiosyne (Aequitas) standing half left, holding scales and cornucopia; VΠ TIB IOVΛ ΦECTOV M(AP)KIANOΠOΛIT(ΩN) / E