C. Hosidius C.f. Geta was one of the moneyers for the year 68 BC. He is likely identical to the Hosidius Geta who was proscibed in 43 BC, as a part of the backlash for the murder of Julius Caesar.

He was rescued by his son who pretended that the elder Geta had taken his own life, and performed the funeral rites while concealing his father on one of his farms.

The father disguised himself by wearing a bandage over one eye; but when he was pardoned, he found that he could no longer see with that eye.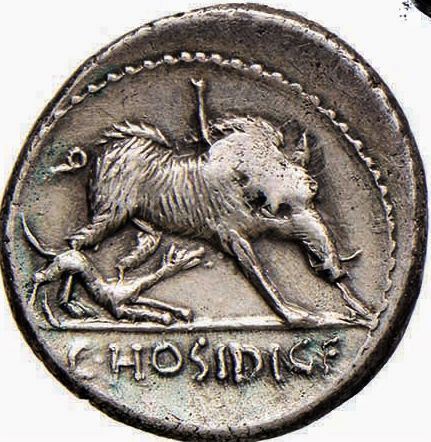 ---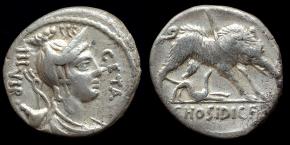 diademed and draped bust of Diana, bow and quiver over shoulder III VIR / GETA
attacked boar right, spear in shoulder, hound below, C HOSIDI C F
Draped bust of Diana right, wearing stephane, earring, and necklace, and with bow and quiver over shoulder; III VIR downwards to left, GETA downwards to right.
The Calydonian boar standing right, it's front legs thrust forward, pierced through by a spear and harried by a hound below; C•HOSIDI•C•F in exergue.