Bovianum
- A settlement in Samnium
also known as
Bovianum Undecumanorum
Bovianum was an ancient city in Samnium which served as the capital of the Pentri tribe. It was founded in the 7th Century BC.

It played a major role in the Samnite Wars, as well as in the Social War, when it was a temporary capital (89 BC). It was sacked by Sulla. It was later colonized under both the triumvirates, and by Vespasian, who settled veterans of Legio XI Claudia (whence the name Bovianum Undecumanorum), and remained an important centre into late antiquity.

After the Lombard conquest, the deserted area was given to a group of Bulgars, who circa 662 fled from the Avars and sought refuge with the Lombards. Bojano became a seat of a gastaldate. The Bulgars also settled in nearby Sepino and Isernia. Paul the Deacon in his Historia Langobardorum writing after the year 787 says that in his time Bulgars still inhabited the area, and that even though they speak "Latin", "they have not forsaken the use of their own tongue".
Modern location:
Bojano, Italy
---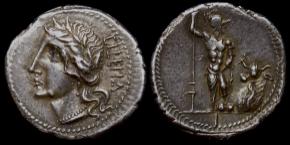 Laureate head of Italia left; VITELIV ( = ITALIA) retrograde in Oscan script behind.
Soldier (or Mars?) standing facing, head right, left foot on lorica, holding inverted spear in right hand and sword in left; to right, recumbent bull facing, head left; I in exergue.