L. Calpurnius Piso Caesoninus was one of the moneyers for the year 100 BC. He was Quaestor Ostiensis - in Ostia - in the same year.

Gens Calpurnia was a plebeian family at Rome, which first appears in history during the third century BC. The first of the gens to obtain the consulship was Gaius Calpurnius Piso in 180 BC, but from this time their consulships were very frequent, and the family of the Pisones became one of the most illustrious in the Roman state. Two important pieces of Republican legislation, the lex Calpurnia of 149 BC and lex Acilia Calpurnia of 67 BC were passed by members of the gens.

The cognomen Caesoninus indicates that the forefather of this branch was originally adoped into gen Calpurnia from gens Caesonia.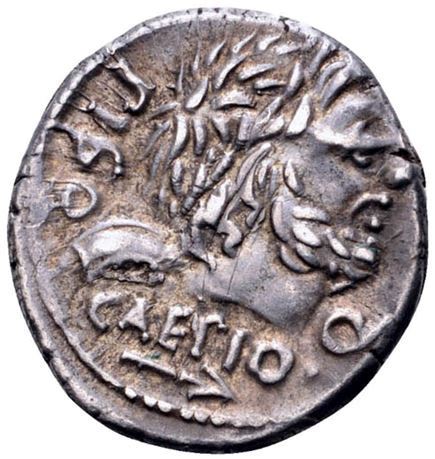 Error executing template "QueryPublisher/Coins.cshtml"
System.IO.IOException: The process cannot access the file 'E:\dynamicweb.net\Solutions\Dynamicweb\cboll.net.dynamicweb-cms.com\Files\Templates\Designs\Blogtheme\json\AllEntitiesTest.json' because it is being used by another process.
   at System.IO.__Error.WinIOError(Int32 errorCode, String maybeFullPath)
   at System.IO.FileStream.Init(String path, FileMode mode, FileAccess access, Int32 rights, Boolean useRights, FileShare share, Int32 bufferSize, FileOptions options, SECURITY_ATTRIBUTES secAttrs, String msgPath, Boolean bFromProxy, Boolean useLongPath, Boolean checkHost)
   at System.IO.FileStream..ctor(String path, FileMode mode, FileAccess access, FileShare share, Int32 bufferSize, FileOptions options, String msgPath, Boolean bFromProxy, Boolean useLongPath, Boolean checkHost)
   at System.IO.StreamReader..ctor(String path, Encoding encoding, Boolean detectEncodingFromByteOrderMarks, Int32 bufferSize, Boolean checkHost)
   at System.IO.File.InternalReadAllText(String path, Encoding encoding, Boolean checkHost)
   at CompiledRazorTemplates.Dynamic.RazorEngine_def0014e5e8b4e92a8813543c3219d40.Execute() in E:\dynamicweb.net\Solutions\Dynamicweb\cboll.net.dynamicweb-cms.com\Files\Templates\QueryPublisher\Coins.cshtml:line 72
   at RazorEngine.Templating.TemplateBase.RazorEngine.Templating.ITemplate.Run(ExecuteContext context, TextWriter reader)
   at RazorEngine.Templating.RazorEngineService.RunCompile(ITemplateKey key, TextWriter writer, Type modelType, Object model, DynamicViewBag viewBag)
   at RazorEngine.Templating.RazorEngineServiceExtensions.<>c__DisplayClass16_0.b__0(TextWriter writer)
   at RazorEngine.Templating.RazorEngineServiceExtensions.WithWriter(Action`1 withWriter)
   at Dynamicweb.Rendering.Template.RenderRazorTemplate()


---







  1

     @using System.Web


  2

     @using System.Net;


  3

     @using Newtonsoft.Json;


  4

     @using Newtonsoft.Json.Linq;


  5

     


  6

     @functions {


  7

         public class RootObject


  8

         {


  9

             public string tableName { get; set; }


 10

             public List<Entity> entityList { get; set; }


 11

         }


 12

     


 13

         public class Entity


 14

         {


 15

             public string Id { get; set; }


 16

             public int Sort { get; set; }


 17

             public string ItemInstanceType { get; set; }


 18

             public string Title { get; set; }


 19

             public string Type { get; set; }


 20

             public string Description { get; set; }


 21

             public string Image { get; set; }


 22

             public string Culture { get; set; }


 23

             public string Greek_Subcultures { get; set; }


 24

             public string Roman_Republican_Subcultures { get; set; }


 25

             public string Roman_Imperial_Subcultures { get; set; }


 26

             public string Celtic_Subcultures { get; set; }


 27

             public string Roman_Provincial_Subcultures { get; set; }


 28

             public string Islamic_Subcultures { get; set; }


 29

             public string Eastern_Subcultures { get; set; }


 30

             public string European_Medieval_Subcultures { get; set; }


 31

             public string Indian_Subcultures { get; set; }


 32

             public string Byzantine_Subcultures { get; set; }


 33

             public string Phoenician_Subcultures { get; set; }


 34

             public string Chinese_Subcultures { get; set; }


 35

             public string Zone { get; set; }


 36

             public string Region { get; set; }


 37

             public string Location { get; set; }


 38

             public string Modern_Location { get; set; }


 39

             public string Ruler_Title { get; set; }


 40

             public string Ruler_Title_English { get; set; }


 41

             public string Epithet { get; set; }


 42

             public string EpithetEnglish { get; set; }


 43

             public string Domain { get; set; }


 44

             public string Doman_English { get; set; }


 45

             public string StartOf_Rule { get; set; }


 46

             public string EndOf_Rule { get; set; }


 47

             public string OwnerID { get; set; }


 48

             public string OwnerName { get; set; }


 49

             public string ShortDescription { get; set; }


 50

             public string Focus { get; set; }


 51

             public string IsPatron { get; set; }


 52

             public string IsFolder { get; set; }


 53

             public string IsDeleted { get; set; }


 54

             public string MetalsList { get; set; }


 55

             public string MintedByList { get; set; }


 56

             public string IncludeInMenu { get; set; }


 57

             public string NameReadable { get; set; }


 58

             public string PreviousText { get; set; }


 59

             public string NextText { get; set; }


 60

             public string RelevantPageID { get; set; }


 61

             public string RelevantParagraphID { get; set; }


 62

             public string RelevantAreaID { get; set; }


 63

         }


 64

     


 65

     }


 66

     


 67

     


 68

     


 69

     


 70

     @{


 71

     


 72

         string AllEntitiesRaw = System.IO.File.ReadAllText(HttpContext.Current.Server.MapPath("/Files/Templates/Designs/Blogtheme/json/AllEntitiesTest.json"));


 73

         int AllEntitiesRawLength = AllEntitiesRaw.Length;


 74

     


 75

         var AllEntitiesJSON = JsonConvert.DeserializeObject<List<Entity>>(@AllEntitiesRaw.Substring(49, @AllEntitiesRawLength - 55));


 76

     


 77

     


 78

         string[] stringSeparators = new string[] { ", ", " and ", "|", "," };


 79

     


 80

         char[] charsToTrim = { '?' };


 81

     


 82

         int Count = 0;


 83

         int CoinsInAlbum = 1;


 84

     


 85

         string PID = "8"; @* Where to send links *@


 86

     


 87

         string userid = @GetGlobalValue("Global:Extranet.UserID");


 88

     


 89

         string print = System.Web.HttpContext.Current.Request.QueryString["print"];


 90

     


 91

     }


 92

     


 93

     @if (@GetInteger("QueryResult.Count") < 1)


 94

     {


 95

         <div align="center" class="font-description">No coins matching the search term(s)</div>


 96

     }


 97

     


 98

     


 99

     <!--Search bar -->


100

     


101

     @if (@GetInteger("QueryResult.Count") > 0 && @print != "1")


102

     {


103

         <div class="input-group input-group-lg" id="filteringGroup" style="padding-left:10px;padding-right:10px;">


104

             <input class="form-control" type="text" id="inputFilter" placeholder="Type here to filter...">


105

             <span class="input-group-btn" id="buttonReset"><button class="btn btn-default brn-primary">X</button></span>


106

         </div>


107

     }


108

     


109

     <div id="coin-items-list" class="row card-deck">


110

     


111

     


112

     


113

         @foreach (var coin in GetLoop("QueryResultItem"))


114

         {


115

             if (@coin.GetBoolean("Coin2_IsDeleted") != true && @coin.GetString("PageItemType") != "Entity")


116

             {


117

     


118

                 string title = @coin.GetString("Coin2_Title");


119

                 string[] titles = @title.Split(stringSeparators, StringSplitOptions.None);


120

     


121

                 string Mint = @coin.GetString("Coin2_Mint");


122

                 string[] mints = @Mint.Split(stringSeparators, StringSplitOptions.None);


123

                 string region = @coin.GetString("Coin2_Region");


124

                 string zone = @coin.GetString("Coin2_Zone");


125

                 string year = coin.GetString("Coin2_Year");


126

     


127

                 string Denomination = @coin.GetString("Coin2_Denomination");


128

                 string[] denominations = @Denomination.Split(stringSeparators, StringSplitOptions.None);


129

     


130

                 string obverse = @coin.GetString("Coin2_Obverse_Legend");


131

                 string reverse = @coin.GetString("Coin2_Reverse_Legend");


132

                 string references = @coin.GetString("Coin2_References");


133

                 string metal = @coin.GetString("Coin2_Metal");


134

     


135

     


136

                 string category = @coin.GetString("Coin2_Category");


137

                 string subcategorytype = "Coin2_" + @category + "Subcategory";


138

                 string subcategory = @coin.GetString(@subcategorytype);


139

     


140

                 int sortvalue = @coin.GetInteger("Coin2_CustomSort");


141

                 string ownerid = @coin.GetString("Coin2_BelongsToUser");


142

     


143

                 string tab1 = "tab1" + coin.GetString("PageItemId");


144

                 string tab2 = "tab2" + coin.GetString("PageItemId");


145

                 string tab3 = "tab3" + coin.GetString("PageItemId");


146

                 string tab4 = "tab4" + coin.GetString("PageItemId");


147

     


148

                 <div class="card mb-4 coin-item bg-light">


149

                     <!--Header-->


150

     


151

                     <div class="card-header font-coin-title coin-item-info">


152

                         (@CoinsInAlbum)


153

                         @foreach (var titleElement in @titles)


154

                         {


155

                             bool TitleRendered = false;


156

                             foreach (var entity in AllEntitiesJSON)


157

                             {


158

                                 string[] entityTitles;


159

                                 string rawTitles = entity.Title;


160

                                 entityTitles = rawTitles.Split(stringSeparators, StringSplitOptions.None);


161

     


162

                                 if (@entityTitles[0] == @titleElement && @entity.Type == "Subcategory" && @entity.Culture == @category)


163

                                 {


164

                                     <a href='/Default.aspx?ID=@PID&@entity.Type=@titleElement.Replace(' ','_')&Category=@entity.Culture'> @titleElement</a>


165

                                     TitleRendered = true;


166

                                 }


167

                                 else if (@entityTitles[0] == @titleElement && @entity.Type == "Ruler" && @entity.Culture != "Roman_Imperial" && @entity.Title != "Anonymous" && @entity.Roman_Republican_Subcultures == @subcategory ||


168

                                     entityTitles[0] == @titleElement && @entity.Type == "Ruler" && @entity.Culture != "Roman_Imperial" && @entity.Title != "Anonymous" && @entity.Roman_Imperial_Subcultures == @subcategory ||


169

                                     entityTitles[0] == @titleElement && @entity.Type == "Ruler" && @entity.Culture != "Roman_Imperial" && @entity.Title != "Anonymous" && @entity.Celtic_Subcultures == @subcategory ||


170

                                     entityTitles[0] == @titleElement && @entity.Type == "Ruler" && @entity.Culture != "Roman_Imperial" && @entity.Title != "Anonymous" && @entity.Roman_Provincial_Subcultures == @subcategory ||


171

                                     entityTitles[0] == @titleElement && @entity.Type == "Ruler" && @entity.Culture != "Roman_Imperial" && @entity.Title != "Anonymous" && @entity.Islamic_Subcultures == @subcategory ||


172

                                     entityTitles[0] == @titleElement && @entity.Type == "Ruler" && @entity.Culture != "Roman_Imperial" && @entity.Title != "Anonymous" && @entity.Eastern_Subcultures == @subcategory ||


173

                                     entityTitles[0] == @titleElement && @entity.Type == "Ruler" && @entity.Culture != "Roman_Imperial" && @entity.Title != "Anonymous" && @entity.European_Medieval_Subcultures == @subcategory ||


174

                                     entityTitles[0] == @titleElement && @entity.Type == "Ruler" && @entity.Culture != "Roman_Imperial" && @entity.Title != "Anonymous" && @entity.Indian_Subcultures == @subcategory ||


175

                                     entityTitles[0] == @titleElement && @entity.Type == "Ruler" && @entity.Culture != "Roman_Imperial" && @entity.Title != "Anonymous" && @entity.Byzantine_Subcultures == @subcategory ||


176

                                     entityTitles[0] == @titleElement && @entity.Type == "Ruler" && @entity.Culture != "Roman_Imperial" && @entity.Title != "Anonymous" && @entity.Phoenician_Subcultures == @subcategory ||


177

                                     entityTitles[0] == @titleElement && @entity.Type == "Ruler" && @entity.Culture != "Roman_Imperial" && @entity.Title != "Anonymous" && @entity.Chinese_Subcultures == @subcategory ||


178

                                     entityTitles[0] == @titleElement && @entity.Type == "Ruler" && @entity.Culture != "Roman_Imperial" && @entity.Title != "Anonymous" && @entity.Greek_Subcultures == @subcategory)


179

                                 {


180

                                     <a href='/Default.aspx?ID=@PID&@entity.Type=@titleElement&Category=@entity.Culture'> @titleElement</a>


181

                                     TitleRendered = true;


182

                                 }


183

                                 else if (@entityTitles[0] == @titleElement && @entity.Type != "Subcategory" && @entity.Roman_Republican_Subcultures == @subcategory ||


184

                                     @entityTitles[0] == @titleElement && @entity.Type != "Subcategory" && @entity.Roman_Imperial_Subcultures == @subcategory ||


185

                                     @entityTitles[0] == @titleElement && @entity.Type != "Subcategory" && @entity.Celtic_Subcultures == @subcategory ||


186

                                     @entityTitles[0] == @titleElement && @entity.Type != "Subcategory" && @entity.Roman_Provincial_Subcultures == @subcategory ||


187

                                     @entityTitles[0] == @titleElement && @entity.Type != "Subcategory" && @entity.Islamic_Subcultures == @subcategory ||


188

                                     @entityTitles[0] == @titleElement && @entity.Type != "Subcategory" && @entity.Eastern_Subcultures == @subcategory ||


189

                                     @entityTitles[0] == @titleElement && @entity.Type != "Subcategory" && @entity.European_Medieval_Subcultures == @subcategory ||


190

                                     @entityTitles[0] == @titleElement && @entity.Type != "Subcategory" && @entity.Indian_Subcultures == @subcategory ||


191

                                     @entityTitles[0] == @titleElement && @entity.Type != "Subcategory" && @entity.Byzantine_Subcultures == @subcategory ||


192

                                     @entityTitles[0] == @titleElement && @entity.Type != "Subcategory" && @entity.Phoenician_Subcultures == @subcategory ||


193

                                     @entityTitles[0] == @titleElement && @entity.Type != "Subcategory" && @entity.Chinese_Subcultures == @subcategory ||


194

                                     @entityTitles[0] == @titleElement && @entity.Type != "Subcategory" && @entity.Greek_Subcultures == @subcategory)


195

     


196

                                 {


197

                                     <a href='/Default.aspx?ID=@PID&@entity.Type=@titleElement'> @titleElement</a>


198

                                     TitleRendered = true;


199

                                 }


200

                                 else if (@entityTitles.Contains(@titleElement.TrimEnd(charsToTrim)) && @entity.Type == "Mint")


201

                                 {


202

                                     <a href="/Default.aspx?ID=@PID&Mint=@entity.Title">@titleElement</a>


203

                                     TitleRendered = true;


204

                                 }


205

                                 else if (@entityTitles[0] == @titleElement && @entity.Type != "Subcategory" && @entity.Type != "Ruler" && @entity.Type != "Collection")


206

                                 {


207

                                     <a href='/Default.aspx?ID=@PID&@entity.Type=@titleElement'> @titleElement</a>


208

                                     TitleRendered = true;


209

                                 }


210

                             }


211

                             if (TitleRendered == false)


212

                             {


213

                                 <text>@titleElement</text>


214

                             }


215

                             if (@titleElement == titles.Last())


216

                             {


217

                                 <span></span>


218

                             }


219

                             else


220

                             {


221

                                 <span>|</span>


222

                             }


223

                         }


224

     


225

                     </div>


226

                     <!--Image-->


227

                     <a href='/Default.aspx?ID=@coin.GetString("PageIdString")'><img class="card-img-top" src='@coin.GetValue("Coin2_Image")' alt='@coin.GetValue("Coin2_Image")'></a>


228

                     <!--Coin summary-->


229

                     <div class="coin-summary-block text-center">


230

                         <span class="coin-item-info font-coin-subtitle">


231

                             An


232

                             <a href="//Default.aspx?ID=@PID&Metal=@metal">@metal.Replace("_", " ")</a>


233

                             @if (@Denomination.Length > 1)


234

                             {


235

                                 foreach (var denominationElement in @denominations)


236

                                 {


237

                                     bool DenominationRendered = false;


238

                                     foreach (var entity in AllEntitiesJSON)


239

                                     {


240

                                         string[] entityTitles;


241

                                         string rawTitles = entity.Title;


242

                                         entityTitles = rawTitles.Split(stringSeparators, StringSplitOptions.None);


243

     


244

                                         if (@entityTitles.Contains(@denominationElement.TrimEnd(charsToTrim)) && @entity.Type == "Denomination")


245

                                         {


246

                                             <a href='/Default.aspx?ID=@PID&@entity.Type=@entity.Title'>@denominationElement</a>


247

                                             DenominationRendered = true;


248

                                         }


249

                                     }


250

                                     if (DenominationRendered == false)


251

                                     {


252

                                         <text>@denominationElement</text>


253

                                     }


254

                                     if (@denominationElement == denominations.Last())


255

                                     {


256

                                         <span></span>


257

                                     }


258

                                     else


259

                                     {


260

                                         <span>|</span>


261

                                     }


262

                                 }


263

                             }


264

                             else


265

                             {


266

                                 <span>unit</span>


267

                             }


268

     


269

                             struck @if (!string.IsNullOrWhiteSpace(@coin.GetString("Coin2_Year")))


270

                             {


271

                                 <span>@coin.GetString("Coin2_Year")</span>


272

                             }


273

                             else


274

                             {


275

                                 <span>an unknown year</span>


276

                             } in


277

     


278

                             @if (@Mint.Length > 1)


279

                             {


280

                                 foreach (var mintElement in @mints)


281

                                 {


282

                                     bool MintRendered = false;


283

                                     foreach (var entity in AllEntitiesJSON)


284

                                     {


285

                                         string[] entityTitles;


286

                                         string rawTitles = entity.Title;


287

                                         entityTitles = rawTitles.Split(stringSeparators, StringSplitOptions.None);


288

     


289

                                         if (@entityTitles.Contains(@mintElement.TrimEnd(charsToTrim)) && @entity.Type == "Mint")


290

                                         {


291

                                             <span class="coin-item-info "><a href="/Default.aspx?ID=@PID&Mint=@entity.Title">@mintElement</a></span>


292

                                             MintRendered = true;


293

                                         }


294

                                         else if (@entityTitles.Contains(@mintElement.TrimEnd(charsToTrim)) && @entity.Type == "Subcategory" && @entity.Culture == @category)


295

                                         {


296

                                             <span class="coin-item-info"><a href="/Default.aspx?ID=@PID&@entity.Type=@entity.Title&Category=@entity.Culture">@mintElement</a></span>


297

                                             MintRendered = true;


298

                                         }


299

     


300

                                     }


301

                                     if (MintRendered == false)


302

                                     {


303

                                         <span class="coin-item-info">@mintElement</span>


304

                                     }


305

                                     if (@mintElement == mints.Last())


306

                                     {


307

                                         <span></span>


308

                                     }


309

                                     else


310

                                     {


311

                                         <span style="">|</span>


312

                                     }


313

                                 }


314

                             }


315

                             else if (@region.Length > 1)


316

                             {


317

                                 <span class="coin-item-info"><a href="/Default.aspx?ID=@PID&Region=@region">@region.Replace("_", " ")</a></span>


318

                             }


319

                             else if (@zone.Length > 1)


320

                             {


321

                                 <span class="coin-item-info"><a href="/Default.aspx?ID=@PID&Zone=@zone">@zone.Replace("_", " ")</a></span>


322

                             }


323

                             else


324

                             {


325

                                 <span class="coin-item-info">an unknown location</span>


326

                             }


327

     


328

                         </span>


329

                     </div>


330

     


331

                     <!--Tabs-->


332

                     <div class="card-header">


333

     


334

                         <ul class="nav nav-tabs card-header-tabs font-reference" id="tabs-list" role="tablist">


335

                             <li class="nav-item">


336

                                 <a class="nav-link active" href="#@tab1" role="tab" aria-controls="description" aria-selected="true">Description</a>


337

                             </li>


338

                             <li class="nav-item">


339

                                 <a class="nav-link" href="#@tab2" role="tab" aria-controls="history" aria-selected="false">Measurements</a>


340

                             </li>


341

                             <li class="nav-item">


342

                                 <a class="nav-link" href="#@tab3" role="tab" aria-controls="deals" aria-selected="false">Notes </a>


343

                             </li>


344

                             <li class="nav-item">


345

                                 <a class="nav-link" href="#@tab4" role="tab" aria-controls="deals" aria-selected="false">References</a>


346

                             </li>


347

                         </ul>


348

                     </div>


349

                     <!--Body-->


350

                     <div class="card-body">


351

     


352

                         <div class="tab-content">


353

                             <!--Tab 1 Description-->


354

                             <div class="tab-pane active" id="@tab1" role="tabpanel">


355

                                 <div class="card-text ">


356

                                     <span class="font-coin-subtitle">Obverse:</span> <span class="font-coin-description coin-item-info">@obverse</span><br />


357

                                 </div>


358

                                 <p class="card-text">


359

                                     <span class="font-coin-subtitle">Reverse:</span> <span class="font-coin-description coin-item-info">@reverse</span><br />


360

                                 </p>


361

                             </div>


362

                             <!--Tab 2 Measurements-->


363

                             <div class="tab-pane" id="@tab2" role="tabpanel">


364

                                 <!--Diameter-->


365

                                 <span class="font-coin-subtitle">Diameter: </span>


366

                                 @if (!string.IsNullOrWhiteSpace(@coin.GetString("Coin2_Diameter")))


367

                                 {


368

                                     <span class="font-coin-description">@coin.GetString("Coin2_Diameter") mm</span>


369

                                 }


370

                                 else


371

                                 {


372

                                     <span>-</span>


373

                                 }


374

                                 <br />


375

                                 <!--Die Orientation-->


376

                                 <span class="font-coin-subtitle">Die Orientation: </span>


377

                                 @if (!string.IsNullOrWhiteSpace(@coin.GetString("Coin2_DieOrientation")))


378

                                 {


379

                                     <span class="font-coin-description">@coin.GetString("Coin2_DieOrientation") H</span>


380

                                 }


381

                                 else


382

                                 {


383

                                     <span>-</span>


384

                                 }


385

                                 <br />


386

                                 <!--Weight-->


387

                                 <span class="font-coin-subtitle">Weight: </span>


388

                                 @if (!string.IsNullOrWhiteSpace(@coin.GetString("Coin2_Weight")))


389

                                 {


390

                                     <span class="font-coin-description">@coin.GetString("Coin2_Weight") g</span>


391

                                 }


392

                                 else


393

                                 {


394

                                     <span>-</span>


395

                                 }


396

                                 <br />


397

                                 <!--Custom Sort-->


398

                                 @if (@userid == @ownerid && @GetGlobalValue("Global:Page.ID") == "908")


399

                                 {


400

                                     <span class="font-coin-subtitle">Custom sort value:</span><span class="font-coin-description">@sortvalue</span>


401

                                 }


402

                             </div>


403

                             <!--Tab 3 Notes-->


404

                             <div class="tab-pane font-coin-description" id="@tab3" role="tabpanel">


405

                                 @if (!string.IsNullOrWhiteSpace(@coin.GetString("Coin2_Description")))


406

                                 {


407

                                     @coin.GetString("Coin2_Description")


408

                                 }


409

                                 else


410

                                 {


411

                                     <div class="text-center">No notes for this coin</div>


412

                                 }


413

                             </div>


414

                             <!--Tab 4 References-->


415

                             <div class="tab-pane" id="@tab4" role="tabpanel">


416

     


417

                                 @if (@references.Length > 0)


418

                                 {


419

                                     <span class="coin-item-info font-coin-description">@references</span>


420

                                 }


421

                                 else if (@references.Length < 1)


422

                                 {


423

                                     <div class="font-coin-description text-center">No references provided for this coin</div>


424

                                 }


425

     


426

                             </div>


427

                         </div>


428

     


429

                     </div>


430

                     <div class="card-footer">


431

                         @if (ownerid == userid)


432

                         {<span><i title="Your coin" class="fa fa-user-circle"></i></span>}


433

                         <small class="text-muted">


434

                             @if (!string.IsNullOrWhiteSpace(@category))


435

                             {


436

                                 <span class="coin-item-info font-category-small">


437

                                     <a href="/Default.aspx?ID=@PID&Category=@category">@category.Replace("_", " ")</a> @if (!string.IsNullOrWhiteSpace(@subcategory))


438

                                     {<a href="/Default.aspx?ID=@PID&Subcategory=@subcategory&Category=@category">(@subcategory.Replace("_", " "))</a>}


439

                                 </span>


440

                             }


441

                             else


442

                             {


443

                                 <span class="coin-item-info font-category-small">Uncategorized</span>


444

                             }


445

                         </small>


446

                     </div>


447

                 </div>


448

     


449

                 <!-- Counts & Breaks-->


450

                 CoinsInAlbum = CoinsInAlbum + 1;


451

                 Count++;


452

     


453

     


454

     


455

             }


456

         }


457

     


458

     


459

     


460

     </div>


461

     


462

     <script type="text/javascript" src="/Files/Templates/Designs/BlogTheme/js/CoinFilter.js"></script>


463

     <script>


464

         $('#tabs-list a').on('click', function (e) {


465

             e.preventDefault()


466

             $(this).tab('show')


467

         })


468

     </script>


469

     


470

     @if (@print == "1")


471

     {


472

         <body onload="window.print()">


473

         </body>


474

     }