Lucius Appuleius Saturninus was a Roman populist and tribune. He struck coins as Quaestor in 104 BC. He is most notable for introducing a series of legislative reforms, alongside his associate Gaius Servilius Glaucia and with the consent of the famous Gaius Marius, during the last years of the second century BC.

In 100 BC, an Optimate candidate, Gaius Memmius, who seemed to have a good chance of success, was beaten to death by hired agents of Saturninus while voting was actually going on.

The Senate met on the following day, declared Saturninus a public enemy. He was hunted down and stoned to death soon after.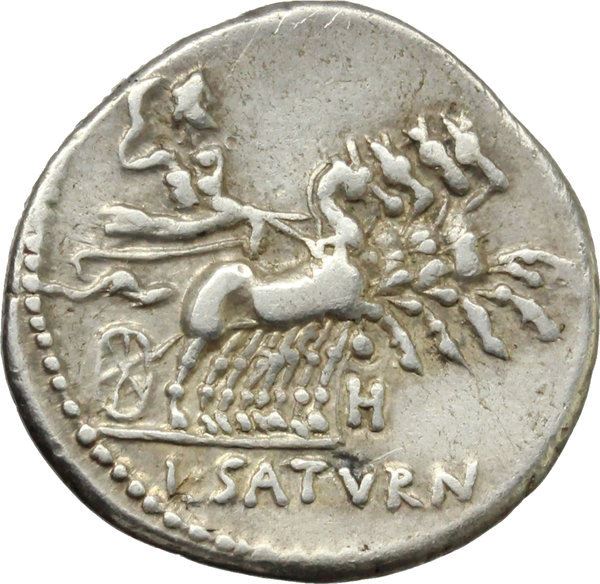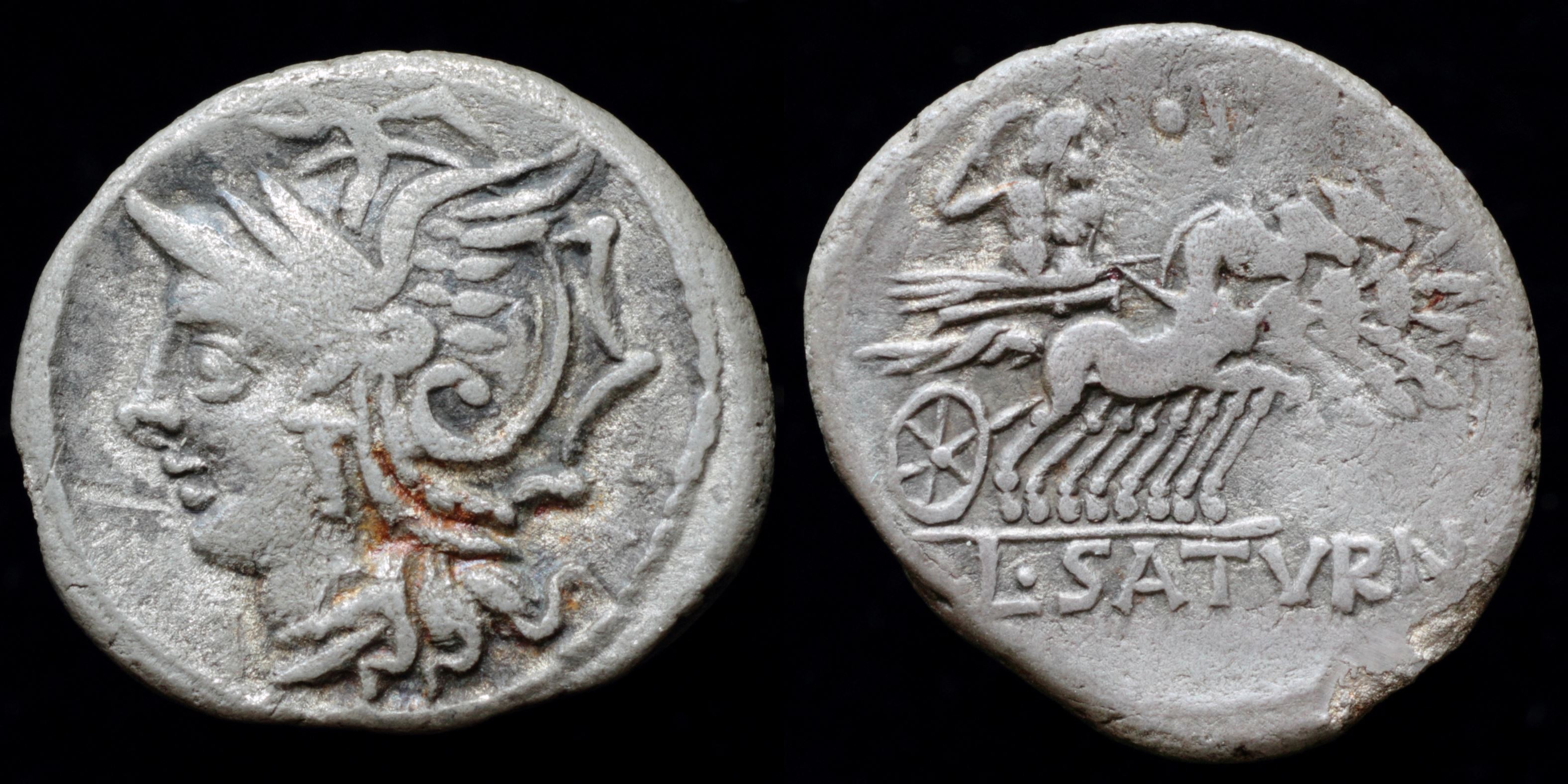 Obverse:
head of Roma left wearing winged helmet
Reverse: Saturn in quadriga right holding harpa and reins, P with dot above* and to the left L·SATVRN

Diameter:
18.5 mm
Die Orientation:
-
Weight:
3.66 g
*According Richard Schaefer it's the first known example of these dies. Dies differ from ·P thus there, most probably, is dot above P although unfortunately off flan. As quaestor Saturninus superintended the imports of grain at Ostia, but had been removed by the Roman Senate (an unusual proceeding), and replaced by Marcus Aemilius Scaurus, one of the chief members of the Optimates. Standard view is that injustice of his dismissal drove him into the arms of the Populares. In 103 BC he was elected tribune. Marius, on his return to Rome after his victory over the Cimbri, finding himself isolated in the senate, entered into a compact with Saturninus and his ally Gaius Servilius Glaucia, and the three formed a kind of triumvirate, supported by the veterans of Marius and many of the common people. By the aid of bribery and assassination Marius was elected (100 BC) consul for the sixth time, Glaucia praetor, and Saturninus tribune for the second time. Marius, finding himself overshadowed by his colleagues and compromised by their excesses, thought seriously of breaking with them, and Saturninus and Glaucia saw that their only hope of safety lay in their retention of office. Saturninus was elected tribune for the third time for the year beginning December 10, 100, and Glaucia, although at the time praetor and therefore not eligible until after the lapse of 2 years, was a candidate for the consulship. Marcus Antonius Orator was elected without opposition; the other Optimate candidate, Gaius Memmius, who seemed to have the better chance of success, was beaten to death by the hired agents of Saturninus and Glaucia, while the voting was actually going on. This produced a complete revulsion of public feeling. The Senate met on the following day, declared Saturninus and Glaucia public enemies, and called upon Marius to defend the State. Marius had no alternative but to obey. Saturninus, defeated in a pitched battle in the Roman Forum (December 10), took refuge with his followers in the Capitol, where, the water supply having been cut off, they were forced to capitulate. Marius, having assured them that their lives would be spared, removed them to the Curia Hostilia, intending to proceed against them according to law. But the more impetuous members of the aristocratic party climbed onto the roof, stripped off the tiles, and stoned Saturninus and many others to death. Glaucia, who had escaped into a house, was dragged out and killed. (wikipedia)
Crawford 317/3a, SRCV I 193, Sydenham 578, RSC I Appuleia 1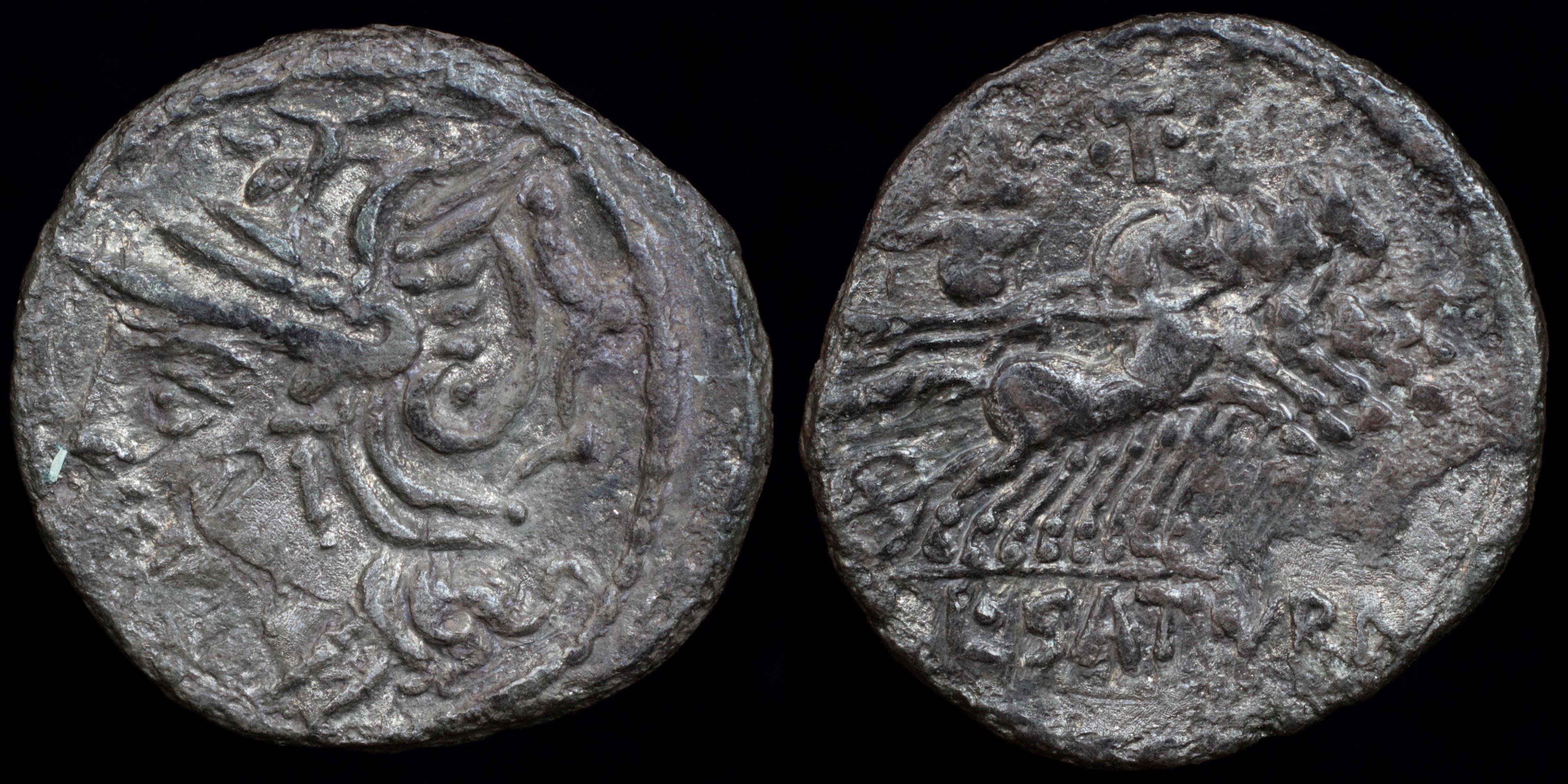 Obverse:
head of Roma left wearing winged helmet
Reverse: Saturn in quadriga right holding harpa and reins ·T· L·SATVRN

Diameter:
19 mm
Die Orientation:
-
Weight:
3.5 g
As quaestor Saturninus superintended the imports of grain at Ostia, but had been removed by the Roman Senate (an unusual proceeding), and replaced by Marcus Aemilius Scaurus, one of the chief members of the Optimates. Standard view is that injustice of his dismissal drove him into the arms of the Populares. In 103 BC he was elected tribune. Marius, on his return to Rome after his victory over the Cimbri, finding himself isolated in the senate, entered into a compact with Saturninus and his ally Gaius Servilius Glaucia, and the three formed a kind of triumvirate, supported by the veterans of Marius and many of the common people. By the aid of bribery and assassination Marius was elected (100 BC) consul for the sixth time, Glaucia praetor, and Saturninus tribune for the second time. Marius, finding himself overshadowed by his colleagues and compromised by their excesses, thought seriously of breaking with them, and Saturninus and Glaucia saw that their only hope of safety lay in their retention of office. Saturninus was elected tribune for the third time for the year beginning December 10, 100, and Glaucia, although at the time praetor and therefore not eligible until after the lapse of 2 years, was a candidate for the consulship. Marcus Antonius Orator was elected without opposition; the other Optimate candidate, Gaius Memmius, who seemed to have the better chance of success, was beaten to death by the hired agents of Saturninus and Glaucia, while the voting was actually going on. This produced a complete revulsion of public feeling. The Senate met on the following day, declared Saturninus and Glaucia public enemies, and called upon Marius to defend the State. Marius had no alternative but to obey. Saturninus, defeated in a pitched battle in the Roman Forum (December 10), took refuge with his followers in the Capitol, where, the water supply having been cut off, they were forced to capitulate. Marius, having assured them that their lives would be spared, removed them to the Curia Hostilia, intending to proceed against them according to law. But the more impetuous members of the aristocratic party climbed onto the roof, stripped off the tiles, and stoned Saturninus and many others to death. Glaucia, who had escaped into a house, was dragged out and killed. (wikipedia)
Crawford 317/3a, SRCV I 193, Sydenham 578, RSC I Appuleia 1