Gortyna
— A settlement in Crete
also known as
Gortyn
There is evidence of human occupation in Gortyn as far back as the Neolithic era (7000 BC). Many artifacts have been found from the Minoan period, as well as some from the Dorian (c. 1100 BC). Although it is disputed whether the city was in development during the Minoan period, it is true that the city was in existence during the heroic times, because it is referenced by Homer, among the cities of Crete that were flourishing and were well fortified. The city was complimented by Plato and many others. The city of Gortyn surpassed the prominence of Phaistos during the first millennium BC, Phaistos having been the most significant city on Crete during Minoan times. The period of its great prosperity, however, coincided with the Hellenistic era. Gortyn was the most powerful and prosperous city of Crete and took hegemony of the island, dominating the entire valley from Messara to Levina.

During the Lyttian War in 220 BC the Gortynians were divided by civil strife. Later in the 2nd century after the destruction of Phaistos, extended its power to Matala. Gortyn had excellent relations with Ptolemy IV of Egypt, and experienced a new period of prosperity during the Roman period. As it had allied with the Romans, it avoided the disaster that happened to many other Cretan cities, when invaded by Quintus Caecilius Metellus Creticus in 68 BC.

Gortyn continued to rise under Roman rule, and became the capital of the joint province of Creta et Cyrenaica. From the 4th century it was the capital of a separate province of Crete. The city was destroyed in ca. AD 828 by invading Arabs, who established their own state on the island. One of the first Christian churches was built here and the remains of an important Christian cathedral of Crete can still be seen today. This cathedral, dedicated to St. Titus, the first Bishop of Crete, was erected in the 6th century AD.
Modern location:
near Agioi Deka, Greece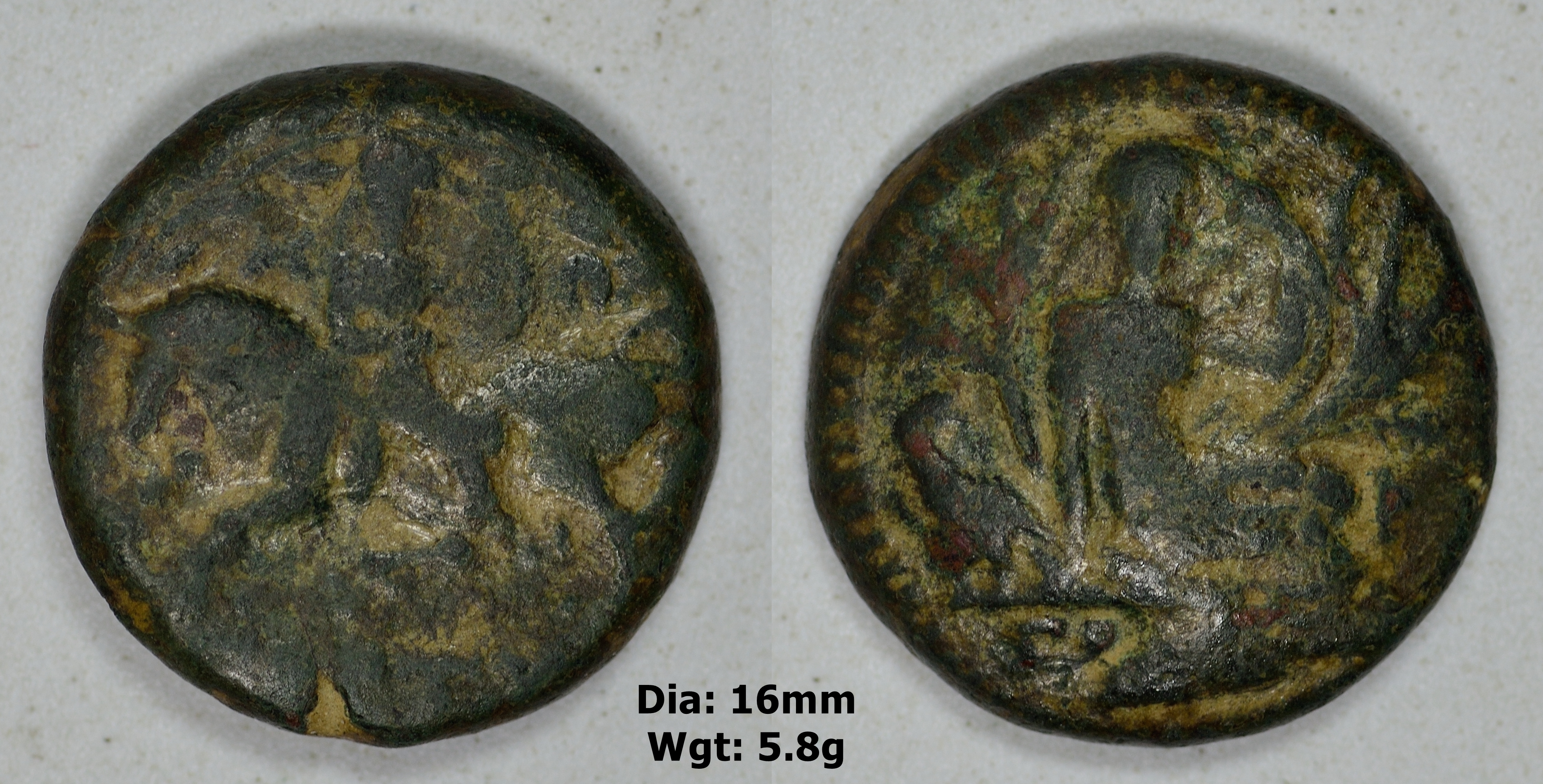 Obverse:
Europa seated right in tree, lifting drapery; eagle standing to left.
Reverse: Europa seated right on bull running left, lifting her drapery; all within wreath

Diameter:
16 mm
Die Orientation:
-
Weight:
5.8 g
Jackson pl. 12, 2; Svoronos, Numismatique 109; Joy 466; SNG Copenhagen 447; BMC 45