Leo V was Emperor of the Byzantine Empire from 813 to 820. A senior general, he forced his predecessor, Michael I Rangabe, to abdicate and assumed the throne.

With the iconodule policy of his predecessors associated with defeats at the hands of Bulgarians and Arabs, Leo V reinstituted Iconoclasm after deposing patriarch Nikephoros and convoking a synod at Constantinople in 815. The Emperor used his rather moderate iconoclast policy to seize the properties of iconodules and monasteries, such as the rich Stoudios Monastery.

Leo V appointed competent military commanders from among his own comrades-in-arms, including Michael the Amorian and Thomas the Slav. When Leo jailed Michael for suspicion of conspiracy, the latter organized the assassination of the Emperor in the palace chapel of St. Stephen on Christmas Eve, 820. Leo was attending service when a group of assassins disguised as monks suddenly threw off their robes and drew their weapons. In the dim light they mistook the officiating priest for the Emperor and the confusion allowed Leo to snatch a heavy cross from the altar and defend himself. He called for his guards, but the conspirators had barred the doors and within a few moments a sword stroke had severed his arm, and he fell before the communion-table, where his body was hewed in pieces.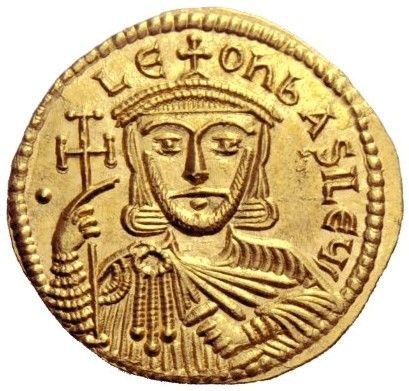 Epithet:
ho ex Armenias ("the Armenian")
No coins matching the search term(s)