Nicomedia
- A settlement in Bithynia
also known as
Astacus
-
Astakos
Nicomedia was an ancient Greek city in what is now Turkey. It was founded in 712 or 711 BC as a Megarian colony and was originally known as Astacus. After being destroyed by Lysimachus, it was rebuilt by Nicomedes I of Bithynia in 264 BC under the name of Nicomedia, and has ever since been one of the most important cities in northwestern Asia Minor.

It was described by ancient writers as a city of superior size and magnificence, ranking next to Rome, Alexandria, and Antioch in the splendor and beauty of its buildings.

The city was sacked in AD 253 by the Goths, but when Diocletian made the city his capital in 283 AD he undertook grand restorations and built an enormous palace, an armory, mint and new shipyards. The ruins of Nicomedia are buried beneath the densely populated modern city of Izmit, which has largely obstructed comprehensive excavation.
Modern location:
Izmit, Turkey
---
D N ARCADIVS P F AVG, Cuirassed bust with helmeted head facing, holding spear and shield
CONCORDIA AVGG, Constantinopolis seated in front, holding Victory on globe and sceptre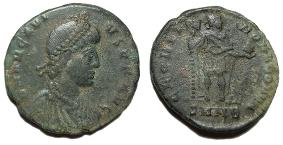 D N ARCADI-VS P F AVG, diademed, draped and cuirassed bust right
GLORIA ROMANORVM, emperor standing facing, head right, holding labarum and globe
pearl-diademed, draped and cuirassed bust right; D N ARCADIVS P F AVG
VOT / V within wreath; SMNΓ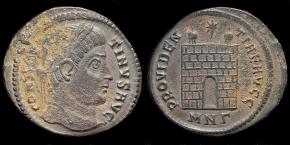 laureate head right; CONSTAN_TINVS AVG
Camp gate with 2 turrets and 8 layers, star above; PROVIDEN_TIAE AVGG / MNΓ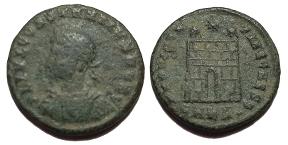 FL IVL CONSTANTIVS NOB C, laureate, draped, cuirassed bust right
PROVIDEN-TIAE CAESS, campgate, 2 turrets, 7 layers, dots in top layer, star above, no doors.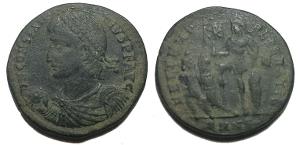 D N CONSTANTIVS P F AVG, diademed, draped and cuirassed bust left, holding globe
FEL TEMP-REPARATIO, Emperor bare headed and in military dress standing left, holding labarum in his right hand, resting left hand on shield. Two bound captives standing and leaning to the left before him.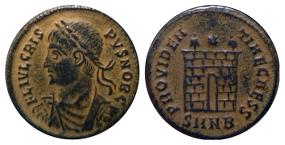 FL IVL CRIS-PVS NOB C: Bust of Crispus, laureate, draped, cuirassed, left
PROVIDEN-TIAE CAESS: Camp gate with two turrets, without doors, with varying number of stone layers; star above. MintMark: -/-//SMNB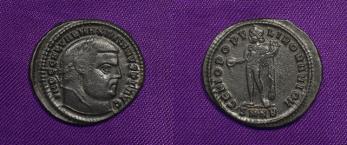 IMP C GAL VAL MAXIMIANVS P F AVG, Head of Galerius facing right, wearing laurel wreath
GENIO POPVLI ROMANI CMH (in ligature), Genius, wearing modius, nude, chlamys draped over left shoulder, standing facing left, pouring liquid from patera in right hand and holding cornucopia in left; SMNB in exergue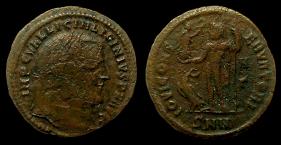 IMP C VAL LICIN LICINIVS PF AVG Laurete head right
IOVI CONS-ERVATORI Jupiter standing left, wearing chlamys (cloak) across left shoulder, holding Victory on globe left and eagle-tipped sceptre right, eagle with wreath in lower left field and N over G (Gamma) in right field. Exergue: SMN
laureate head right; IMP C VAL LICIN LICINIVS P F AVG
Jupiter standing left, holding Victory and scepter; eagle to left; IOVI CONS_ERVATORI / Z / SMN
IMP C GAL VAL MAXIMINUS PF AVG, Laureate bust right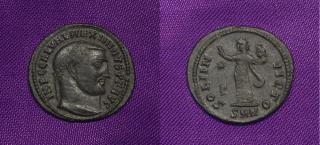 IMP C GAL VAL MAXIMINVS P F AVG, Head of Maximinus facing right, wearing laurel wreath
SOLI INVICTO, Sol standing facing left in long robe, with raised right hand and holding up head of Serapis in left, star Γ to left, Mintmark SMN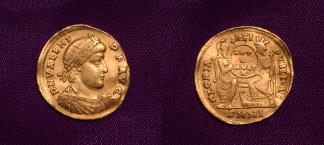 DN VALENS P F AVG, Bust of Valens facing right, wearing pearl diadem, cuirass, and drapery
GLORIA REIPVBLICAE, Roma and Constantinople facing each other, each holding a scepter and together holding a shield inscribed VOT V MVLT X; SMNI in exergue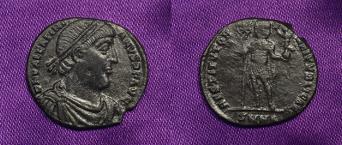 DN VALENTINIANVS P F AVG, Bust of Valentinian facing right, wearing pearl diadem, cuirass, and drapery
RESTITVTOR REIPVBLICAE, Valentinian standing, looking right, in military dress, holding labarum and Victory on globe; SMNA in exergue