Carthago Nova
- A settlement in Tarraconensis
also known as
Mastia
Carthago Nova was originally named Mastia, but was re-founded in 228 BC as Qart Hadasht ("New City"), identically named to Carthage, for the purpose of serving as a stepping-off point for the conquest of Spain.

The Roman general Scipio Africanus conquered it in 209 BC and renamed it as Carthago Nova (literally "New New City") to distinguish it from the mother city.

The city was very relevant both in the Carthaginian and the Roman conquest of the Iberian Peninsula. It remained important until it was sacked by the Vandals in 435 AD.
Modern location:
Cartagena, Spain
---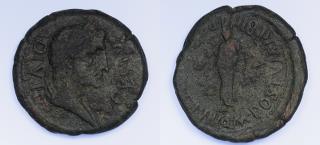 AVGVSTVS DIVI F, Head of Augustus facing right, wearing laurel wreath
M POSTVM ALBIN L PORC CAPIT II VIR Q, Priest standing facing, holding simpulum and branch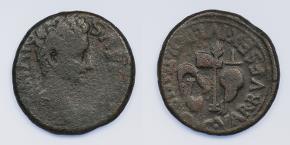 AVGVSTVS DIVI F, Head of Augustus facing right, wearing laurel wreath
C VAR RVF SEX IVL POL II VIRQ, Simpulum, aspergillum, securis, and apex
TI CAESAR DIVI AVGVSTI F AVGVSTVS P M, Bare head of Tiberius facing left
NERO ET DRVSVS CAESARES QVINQ C V I N C, Confronting bare heads of Nero and Drusus