The semis ('half') was a small Roman bronze coin that was valued at half an as. During the Roman Republic, the semis was distinguished by an 'S' (indicating semis) or 6 dots (indicating a theoretical weight of 6 uncia).

Some of the coins featured a bust of Saturn on the obverse, and the prow of a ship on the reverse.

Initially a cast coin, like the rest of Roman Republican bronzes, it began to be struck from dies shortly before the Second Punic War 218-204 BC.

The coin was issued infrequently during the Roman Empire, and ceased to be issued by the time of Hadrian 117-138 AD.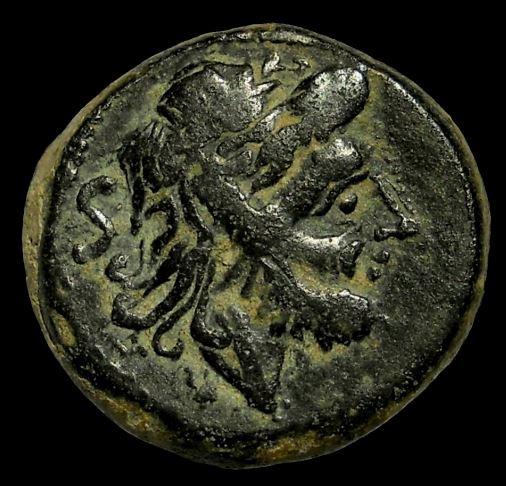 ---
AVGVSTVS DIVI F, Head of Augustus facing left, wearing laurel wreath
CAESAR AVGVSTA L CASSIO C VAL FEN, Vexillum on base; II VIR to left and right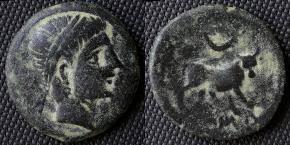 Bull right, crescent above; KASTILO retrograde in southern hispanian script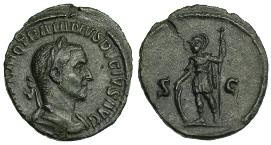 IMP C M Q TRAIANVS DECIVS AVG, laureate, draped and cuirassed bust right
Mars standing left, holding shield and spear; S C across field
Bare head left; GERMANICVS CAESAR TI AVG F
Aquila between two standards; MVNIC__ITALIC / PE_R / AV_G
helmeted head of warrior righ
warrior standing half-left, with grounded spear and shield; IAITI_NΩN
M•ANT•TER•COS•DES• ITER•ET•TER•III•VIR•R•P•C, bare head right.
L•BIBVLVS•M•F•PR•DESIG, quinquereme right, with three oars and stern ending in boar's head left.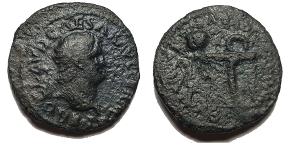 NERO CLAVD CAESAR AVG GERMA, bare head right, with globe at point of bust.
CER QVINC ROM CON around, SC in exergue, Table, seen at an angle, surmounted by an urn on the left and wreath on the right.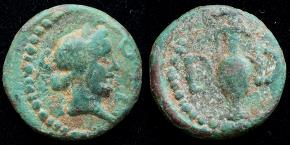 female head right wearing stephane; C_G / I_P
laureate head of Saturn right S
prow of galley right S ROMA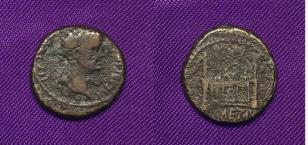 TI CAESAR AVGVST F IMPERAT VII, Head of Tiberius facing right, wearing laurel wreath
Altar of Lugdunum, ROM ET AVG below